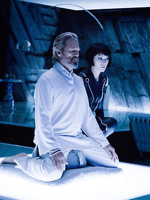 • The week started off with "How to Train Your Dragon" predictably dominating the slate of Annie Award nominations.
• Kris sat down with Leonardo DiCaprio and got Martin Scorsese on the phone for a large two–part piece on the actor and his impressive year.
• He also caught up with actor Ed Harris to talk "The Way Back" and director Peter Weir.
• It was good and bad news for The Weinstein Company as "Blue Valentine" won its ratings appeal with the MPAA, while "The King's Speech"'s was shot down.
• But at least the latter had a solid showing at the British Independent Film Awards (while "The Ghost Writer" dominated the European Film Awards).
• Guy's First-Half FYC series continued with a look at under-appreciated supporting actors from early 2010.
• Chad, meanwhile, kept reminding us of films that missed Oscar's attention by looking at 1997 and 1998 in Life Without Oscar.
• Kris saw and surprisingly enjoyed "TRON Legacy," noting that it "reeks and rocks with equal measure."
• We featured a hefty interview between Christopher Nolan and brother Jonathan as found in the pages of the "Inception" shooting script.
• Kris took a first and only stab at analyzing the Best Original Song category, stepping in for Gerard in Tech Support.
• In Oscar news, the Academy baked the race for Best Visual Effects off to 15 survivors.
• This week's Off the Carpet column reminded how crucial this point in the season really is.
• Guy previewed the beginnings of the on-coming critics awards circuit in The Long Shot.
• Speaking of which, the Washington D.C. critics went with "The Social Network" as the year's best, while "Winter's Bone" dominated the slate of Detroit critics nods.
• And finally, Kris and Anne put a bow on both the week and the year in general in Oscar Talk with their separate and diverse top 10 lists.
[Photo: Walt Disney Pictures]