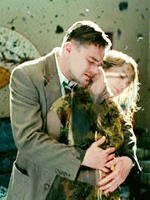 This is the first year the race for Best Visual Effects will feature five nominees.  So take a third of these lucky semi-finalists and there we are.  The five I think most are expecting to show up are still in the mix.
The most surprising omission for me is "Black Swan," which used digital wizardry to very startling effect, especially in the film's final act.  I also expected "The Tempest" to show up, but I guess it just leaves too bad a taste in people's mouths.
I'm happy to see "Shutter Island" get singled out.  If we start seeing the guilds respond to the work in this film (and indeed, we might), I think it would be fair to start taking it's Best Picture chances seriously.  It's holding up for more than you might expect.  And "Hereafter" shows up on this list, too.  I wouldn't be surprised if it slid in for its opening sequence (which is rather respected in the VFX community).
Full list after the jump.  The category's Contenders page has also been updated with a proposed ranking.
Via AMPAS press release:
"Alice in Wonderland"
"The Chronicles of Narnia: The Voyage of the Dawn Treader"
"Clash of the Titans"
"Harry Potter and the Deathly Hallows Part 1"
"Hereafter"
"Inception"
"Iron Man 2"
"The Last Airbender"
"Percy Jackson & the Olympians: The Lightning Thief"
"Prince of Persia: The Sands of Time"
"Scott Pilgrim vs the World"
"Shutter Island"
"The Sorcerer's Apprentice"
"TRON Legacy"
"Unstoppable"
[Photo: Paramount Pictures]