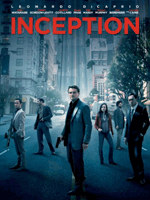 This morning we wrapped up a massive two-part interview with actor Leonardo DiCaprio, whose performances in "Inception" and particularly "Shutter Island" in 2010 reflected a movie star very much at the top of his game.  So in the spirit of his wonderful year of output, it seemed a good time to kick off our contests with a chance to win a DVD of each film.
But you have to work for it.  Stretch the ole' brain a bit and come up with an engaging piece of persuasive writing.  Using the comments section below, tell us what your favorite DiCaprio performance is to date.  That's the full canon, starting with the groundbreaking, brilliant, truly stunning and revelatory, uh, "Critters 3," and moving all the way through his latest portrayal in Christopher Nolan's summer blockbuster.  Be convincing.
It's best to put a limit on things, for purposes of length and also to make sure we get some potent responses.  I think 100 words is plenty, so anything that goes over that mark, I'll have to disqualify.  Have at it!
[Photo: Warner Bros. Pictures]