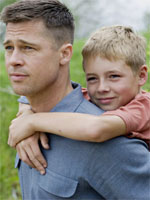 Okay, I know we're all jacked up for the next few months of awards-watching, but would anyone mind if we just fast-forwarded straight to May? I'll miss the Oscars, but frankly, the winter freeze is getting me down, the movies have petered out, and then I read a Cannes-teasing tweet like this from the ever well-informed Cédric Succivalli. Here it is, short and (very) sweet:
Almodovar, Despentes, Kar Wai, Malick, Ramsay, Sorrentino, von Trier on their way to Cannes '11.
Cédric is a reliable source on all matters Croisette-related — so this would appear to cement the LA Times's report yesterday of a "likely" Cannes debut for "Tree of Life," though the film's festival-shadowing US release date of May 27 was already something of a clue. In that LAT piece, meanwhile, Steven Zeitchik writes that Fox Searchlight plan to market Malick's long-delayed opus as an "event" befitting its summer status.
He writes:
The idea, a Fox Searchlight spokeswoman said, was to create a sense of significance as spring and summer moviegoers look for a big-event theatrical experience.

Searchlight wants audiences to understand that Malick … has created something accessible."We don't want people to think it's 'Stand by Me,' but we want them to know there's a traditional narrative," [Searchlight co-head Nancy] Utley said. She added, "We hope this can be the kind of spring counterprogramming for thoughtful people, people who like a little philosophy with their movies."
It's comforting to hear that Searchlight are so confident in the film, given the crushing pressure it will be under when it eventually surfaces at Cannes. It's also great to see a summer release for one of the year's big-ticket art films, resisting the annual year-end crush of prestige fare. Grown-ups go to the movies all year round, you know.
Returning to that opening tweet, however, "Tree of Life" clearly won't have it all its own way in the festival publicity stakes. After a comparatively low-key 2010, Cannes is clearly planning another all-star auteur pileup along the lines of last year's edition. As breathless as I am for new work from usual suspects like Almodovar, Wong Kar-Wai and Lars von Trier, however, the name getting me most restless is Lynne Ramsay, robbed of a competition slot in 2002 for "Morvern Callar" and evidently returning after nine long years with the Tilda Swinton-starring "We Need to Talk About Kevin." (Yep, she's been quiet even longer than Mr. Malick.)
Five months isn't that far away, is it?