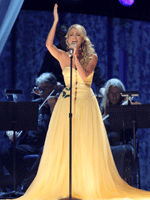 We're trickling closer to Thursday's Tech Support column on the original song race with what's available to us.  Today it's a tune I didn't even know was in the race until a PR blast hit the ole inbox this afternoon.
It looks like country star Carrie Underwood is the race with "There's a Place for Us" from "The Chronicles of Narnia: The Voyage of the Dawn Treader," putting her in the "Oscar contender" club with fellow American Idol alums Jennifer Hudson ("Love You I Do" from "Dreamgirls") and Adam Lambert ("Time for Miracles" from "2012").
I haven't seen the film yet.  In fact, I never did get around to the second installment of the franchise after being a pretty big fan of the first one.  But I'm told the song is used over the closing credits rather than in the context of the film itself.
Have a listen to "There's a Place for Us" below, and as always, keep track of the Best Original Song race as it unfolds via its dedicated page here.
[display_podcast]
[Photo: pynkcelebrity.com]