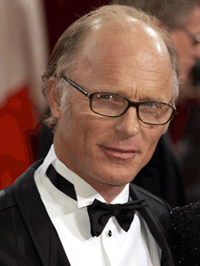 When actor Ed Harris was doing the press rounds for his second directorial effort, "Appaloosa," in 2008, he was frequently asked who was on his wish list of collaborators. He remembers saying a couple of times that he'd like to work with Peter Weir again because he had such a good time on the 1998 film "The Truman Show" (which yielded the actor an Oscar nomination for Best Supporting Actor). And it wasn't long after that he got his wish as the screenplay for "The Way Back" came his way.
"I would have done anything he asked me, whatever it was," Harris says sipping an iced tea outside his Malibu home. "He's such a thorough, committed director. It's like the best teacher you ever had. You enjoy writing a paper for the guy, because you know the feedback is going to enlighten you. It's going to encourage you. It's going to make you better. And working with Peter is like that because his attention is so laser-like. You know whatever you're doing he's paying attention to. One of the things I like to do as an actor is the specificity of any given character but working with Peter enhances that even more. You're just aware. It makes you focus on the moment-to-moment reality of what you're doing."
In the film Harris portrays Mr. Smith, a mysterious loner American ex-patriot toiling away in a Stalinist Siberian gulag. Along with a handful of dedicated European prisoners, he escapes and sets off on a 4,000 mile journey on foot through southern Siberia and the whole of Mongolia to escape the Communist regime. The film is loosely based on the novel "The Long Walk," which depicts a similar journey said to have taken place in 1942.
"The first read, it was okay," he says of the script. "I thought it could be interesting but the process of making the film and being there for four months and just immersing myself as much as I could in what these people are doing, the role took on a different life for me in a way. So I ended up really embracing it, not that I wasn't going to, but I wasn't sure when I first read it where this guy was coming from."
Harris researched the role by diving into some of Weir's DVDs and documentary footage of people from the period. But most helpful was Tim Tzouliadis's 2008 book "The Forsaken," which tells the story of the thousands of Americans who went to Russia in the early 1930s, in many cases just to seek work during the Depression.
"It was a great amount of information and creative foundation," he says, "and in my own head I could trip off with my story and my character."
But Harris was mainly game for the role because he says he delights in physically demanding work. It allows him to be more at one with a given character, he says. "It was a great shoot," he says. "It was really physical and at times it was kind of difficult but in a great way because the harder it was physically the more you felt you were doing it."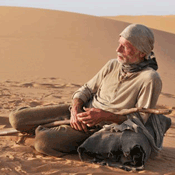 To that end, and by way of preparation, Harris would head up to another piece of property he owned near his home every day with a pickax and just hack away at the ground. "It's just bare earth but it's really hard," he says. "I'd just go up there and do manual labor for a few hours and get some strength and calluses. I wasn't achieving anything other than clearing out an area that I wasn't going to do anything with anyway. It was totally just like, you've got to do this. You're in a gulag and you've got to go work or they're going to kill you."
During the shoot, Weir encouraged similar improvisation from the actors. They would use what was available to them in the environment to make elements for their journey, whatever made functioning sense to them. Harris, of course, was all over it.
"We were always doing something," he says. "It took a long time making this fish hook out of a piece of barbed wire. I didn't want to cheat with a pair of pliers or anything so I had a little stone that had a hole in it and I'd stick the wire in it and I could bend it around. I sharpened it as much as I could, then I'd pull threads out of my jacket and twist maybe three or four of them and tie them off on the end and made a pretty good fishing line. I was always working on my boots and patching them up or whatever and had some bone needles and sinew kind of stuff that we were using for thread, you know." He adds with a smile, "I just love doing that kind of shit."
One would think, given the attraction to that kind of work, he might try his hand a more westerns like "Appaloosa." Says Harris, "If they'd do them, I'd love to. I'd do one after another!"
Filming on "The Way Back" took place in the far reaches (and varying extremes) of Bulgaria and Morocco, for the most part. And Harris says the isolation was integral to digging under the skin of Mr. Smith.
"You're thousands of miles from home," he says. "There's not a hell of a lot to do in Sofia, the capital [of Bulgaria], but I had been doing some Tai Chi prior, kind of for the role and kind of for my life, so when I wasn't working I was just zeroed in. Colin [Farrell] and I were staying at the same place and we hung out a little bit. Bulgaria's a weird country because it's run by the mob, you know, and there's garbage and packs of wild dogs running around, it's bizarre. And the countryside is impoverished. It snowed and it was freezing fucking cold at night when the wind picked up. And Morocco, I had never been to Morocco. I loved it. It was hot and we'd go out in the desert and work our asses off."
The emotional heartbeat of the tale is Mr. Smith's relationship with Irena, a young runaway (played by Saoirse Ronan) the escapees encounter on their journey. Harris remembered being impressed by her work in Joe Wright's "Atonement."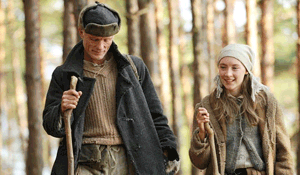 "She was so present in a cool way and really mysterious," he says. "I loved working with her. She was just 17 when we made it, I think, a little bit older than my daughter. She had a wonderful work ethic, really friendly, always in good spirits, charming, pretty. I felt a little bit protective of her, though she didn't really need that. We had a really nice thing. I loved just being totally simple and honest with her. She's living and breathing in the moment and you're able to just experience that with her."
Once the film was complete, it waited for a major studio to bite for quite a while before Newmarket Films, a subsidiary of Exclusive Media Group, which produced the film, was tapped for domestic distribution. Peter Weir may have been a filmmaker coming off the epic "Master and Commander: The Far Side of the World," which racked up 10 Oscar nominations, but that was seven years ago. And the business is in flux. A Weir film failing to generate a lot of interest in the industry is a reality Harris admits is "pitiful," but he also says he wasn't all that surprised.
"What can I tell you," he asks. "It's the day and age we're living in. I don't know if it'll have much of a life out there or not. Nothing surprises me about that kind of thing. It's a very odd time. Who knows if it'll ever change? It's almost becoming like there's two film industries. There's the $100 million-plus budgets and then there's under $10 million. The problem is the distribution. If they could put out the films on par with the way they put out big blockbusters, I think people would go see them. But you know, you've got a cineplex in the middle of the country that's got 15 theaters and 'Harry Potter' is going to be in five of them and they're not even going to show 'The Way Back' or whatever it might be.
"On a personal level, after working on 'Copying Beethoven' for really a solid year in terms of the piano and conducting and all of that and the film came out in like five theaters for four days, it's like, nothing fucking surprises me. And that experience made me totally realize that the doing of it is what feeds you, inspires you and gives you the reason to do it. The work itself. And if it has a life, great, because it's such a fucking crap shoot these days. Especially with a film that's not going to be put into 3,000 theaters. But it's the process of doing it that fills you up. Whether it's successful or not monetarily has nothing to do with the reason you do it."
Up next for the actor is the Asger Leth-directed "Man on a Ledge," currently filming in New York. Additionally, actor Ed Asner brought a script to him about the Spanish Civil War and baseball players who participated in that conflict. He's hoping John Sayles will do a re-write. And there's also a biopic on tightrope walker Barbette in the mix. Harris trains every day on a tightrope in preparation for that.
But for now, he's just hoping "The Way Back" can get as much attention as it can. As for the potential of an Oscar nomination for himself, which would be his fifth, he humbly notes, "It'd be cool. But I understand the reality of the whole process in terms of is money being spent, ads, how wide the movie is. But any attention the picture gets is good. I feel really great about what I did in the picture. I felt, acting-wise, more present than I've been in any film, in terms of just being this guy. So if it gets recognized along those lines, it's okay with me."
"The Way Back" opens in Los Angels on December 29 and in limited U.S. release on January 21.
[Photos: Newmarket Films/Wrekin Hill Entertainment]