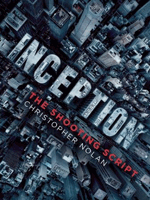 If you've been itching for more "Inception," this week will likely be a good one for you.  The DVD/Blu-ray hits shelves today, packed with plenty of features that'll keep you geek-gasming all the way into the holiday and through awards season.
One item that's been on the market for a few months now is "Inception: The Shooting Script." I received the book in the mail this afternoon and was pleasantly surprised to find a longish 10-page interview with Christopher Nolan as conducted by his brother (and "The Dark Knight" co-writer) Jonathan.
Okay, it's not THAT insightful.  And it has a lot of the usual talking points (Christopher) Nolan exhausted on the press tour for the film.  But there are nuggets here and there and it's pretty cool to have Jonathan conduct the thing seeing as he's been hearing about the idea from his brother for the last 10 years.
I particularly liked this exchange:
CN: There are moments where you worry that you might be putting too much in and alienating the audience.  But, funnily enough, some of those fears aren't correct.  Sometimes, when you start thinking too much about what an audience is going to think, when you're too self-conscious about it, you make mistakes.  Somewhere in the back of my mind, for example, I had assumed the business with the spinning top in the safe would wind up being cut out of the film.  But when we started showing the film to people, that scene…

JN: You actually thought you'd have to cut it out?

CN: I thought we'd have to lose it because it was a symbol too far.  Or an image too far.  But what we realized in showing it to people is that they actually grasped the imagery as something to hold on to, as an illustration of things that had happened off camera.
There's also this nifty drawing depicting the entire concept of the film (click for larger version):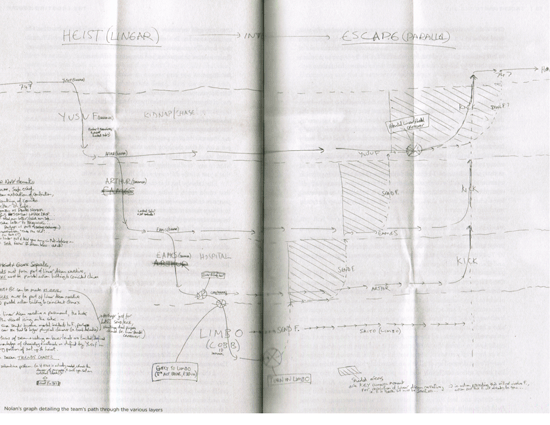 I figured I'd upload the whole interview for you in a PDF, so click here to give it a read if you haven't already picked up the book.
[Photo: Insight Editions]