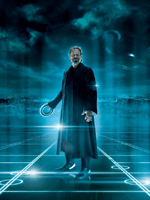 Disney has probably been wise to discontinue the original "TRON" on DVD in advance of the release of "TRON Legacy," lest people be reminded of how truly bad it was.  Beyond being conceptually ahead of its time, it never seemed to be more than a pop culture blip in cinema history, if we're being perfectly honest.
Bottom line: the film had unrefined if progressive narrative ideas and got points for pushing boundaries if nothing else.  Naturally, then, it developed a cult following that heaped appreciation for what wasn't really on the screen, but rather what existed in the conceptual ether of the thing.  This puts "TRON Legacy" in decent enough position to capitalize on throwback mania.
Here's the thing.  The new film has plenty of issues, but I doubt I've had a better time in a movie theater all year.  Expectations couldn't have been lower, which played to the film's advantage I imagine, but I was strapped in and game from the opening text.
There are more than a handful of groaner moments (usually by way of awkward dialogue).  There are plenty of histrionics to go around.  There are leaps in logic — even on the film's own terms — that are difficult to get past and the eye candy is enough to lull you into a non-participatory cinediabetic coma before long.  It's a film with ideas just as unrefined as the original, but I wasn't prepared to be as engaged as I was for as long as I was, nor was I prepared for the emotions when they came late in the third act and how real they felt.  Broadly speaking, Joseph Kosinski and company have hammered out an intriguing mythology without ever really condescending to it, and I appreciate that.
The ingredients are the expected standout, though.  Art direction, cinematography, costumes, editing, makeup, Daft Punk's amazing score, the visual effects and, most especially, the sound design are all state of the art, all impactful in profound measure, and all worthy of awards recognition.
The uncanny valley nature of a youthful Jeff Bridges didn't bother me all that much (though its use in the first scene did stand out as particularly rough).  Again, concept wins out over execution.  But most intriguing to me is how this film elevates the actor to an iconic cinematic status like no film before it.  It's a bit poetic that we get this the year after he won the Oscar for Best Actor, because his voice, his image, it pulses through the veins of this film and marries itself to the iconography buried somewhere inside this mess of a screenplay in a very unique and rewarding way.  Tough to explain.
I don't know.  I dug it.  And I'm very eager to see it again.  What can I tell ya?
[Photo: Walt Disney Pictures]