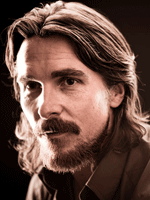 I'm tellin' ya, Christian Bale is taking from the Mo'Nique school of Oscar campaigning more and more.  Okay, not really, though that'll make a nice narrative for the press to wrap around his usual prickliness as the season unfolds, just you watch.
Of course, I'm sure Paramount would rather he go through the usual tame but hype-driving motions.  Witness "The Fighter" co-star Mark Wahlberg, who has already exhausted the same talking points on what a feat and a challenge his work on the film and behind the scenes was (and not to take anything away from a guy who really wants a nomination, because I do have a lot of respect for what he did with this film on camera and off).
But for Bale, the standoffishness will be the story, and I'll submit this: at least it's unique, in the scheme of this particular season, anyway.  And the latest example, after a humorous Esquire Q&A, is this Dennis Lim interview in the pages of The New York Times.
You get an idea of what's in store early:
As he made clear in the course of a 90-minute conversation, during which he was more or less good-natured though not exactly approachable, Mr. Bale does not like to talk about himself, his life, his work and certainly not about the notion of craft as it applies to what he called "the extremely silly profession" of acting. But he is putting up with the scrutiny for the sake of "The Fighter."
Lim gets quotes from "The Dark Knight" director Christopher Nolan and Dickie Eklund, who Bale portrays in the film, regarding the actor's process.  But sometimes he gets stuff like this out of Bale:
[Director] David [O. Russell] would say a couple of times, 'O.K., be Dicky,' and that's just not the way I work…I kind of slowly do it, like a frog that you stick in cold water and slowly turn up the heat so it never knows it's being boiled alive…Eventually it's just happening but it's vague, the line where you started. And when you've done it that way, it can take a bit of time to wear off.
The rest is the same sort of psuedo-profile for which the actor has confessed a distaste.  And call it what you want.  But I'll keep reading because I'm getting a kick out of him calling "bullshit" on virtually every element of the process.  It's cathartic.  But that's me.
[Photo: The New York Times]