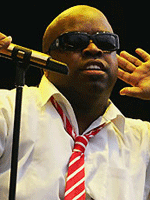 Can you tell I'm grasping at straws with this category yet?  I'm planning on writing up this year's Best Original Song category in Thursday's Tech Support column and I thought I'd squeeze a few more contenders in this week, but there's not a lot to choose from.
Cee-Lo Green's "What Part of Forever" from "The Twilight Saga: Eclipse" was nominated for a Satellite Award by the International Press Academy last week so I guess giving it some space here makes (a little) sense.  I haven't seen the film so I can't speak to its usage therein.  I watched the first two films of the series back-to-back last year and was stunned.  I never want to feel that way again so I avoid them like the plague.
Also included on the soundtrack were tunes from Muse, Beck and Bat For Lashes and Muse (whose "Eclipse (All Yours)" was also nominated for a Satellite), all eligible (I think).
Anyway, that's all I really have to offer on this track.  I will admit that I like the song.  But we're just filling out the edges of this category for now.  It seems like it's down to a handful of possibilities (though we never know what might turn up at the end of the day).
Have a listen to "What Part of Forever" below and as always, keep up with the Best Original Song category via its dedicated page here.
[display_podcast]
[Photo: elbo.ws]