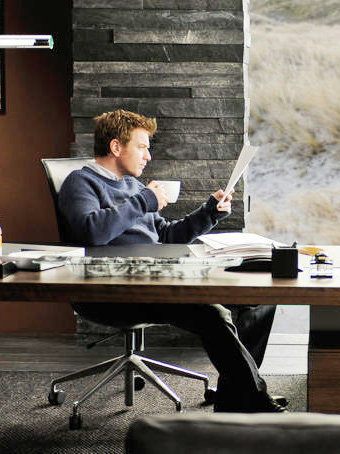 Apologies for getting to both these announcement so late: my laptop is currently (perhaps terminally) hospitalized, so posting is rather spotty on my end. The timing is particularly bad, since this past weekend's awards activity included two major European ceremonies that I should have been all over.
That said, if you paid even vague attention to the nominee lists for the British Independent Film Awards and the European Film Awards when they were announced, you probably could have guessed how they panned out without much help from me.
In both ceremonies, the nomination leader emerged easily as top dog. With the BIFA voters throwing fewer curveballs than usual for them, "The King's Speech" won five of its eight bids, including Best British Independent Film and three of the four acting races. It was left to scrappy sci-fi sleeper "Monsters" to disrupt the yawnfest, as debut helmer Gareth Edwards pipped Tom Hooper to the Best Director prize. (He lost Best Debut Director the same night, incidentally — such is the spread-the-wealth logic of juried awards.)
Elsewhere, in what will likely remain the high point of the film's awards journey, Carey Mulligan took Best Actress for her sterling work in "Never Let Me Go," marking her second straight BIFA win in that category. (Over in the supporting category, in the ceremony's most dubious decision, Helena Bonham-Carter consolidated the career achievement award she won the same evening by beating Lesley Manville — proving just how little the BIFAs dig Mike Leigh this year.)
The European Film Awards, meanwhile, were even more of a one-film lovefest, as "The Ghost Writer" greedily grabbed six of the seven awards for which it was nominated, losing only in the Best Film Editing category. (That deservedly went to "Carlos," by the way — the most lickety-split five hours you've ever sat through in the cinema.) Although I've expressed slight befuddlement over the increasingly reverential treatment accorded this spry but slight thriller in Europe, I'm not surprised this time round — the EFA voters somehow conspired to assemble a slate of nominees so feeble that Roman Polanski's film could hardly fail to cruise to victory.
If "The Ghost Writer" had a leading actress, you can bet she would have won too. Happily, however, Sylvie Testud took Best Actress honors for her sly, subtle turn in Jessica Hausner's largely under-rewarded "Lourdes" — the only major award not to go to Team Polanski and by far the night's most inspired choice.
Check out the full list of BIFA and EFA winners at The Circuit.
[Photo: Summit Entertainment]