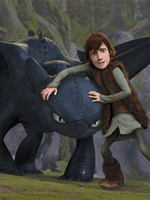 It was cute of the Annies to throw "Tangled" and "Toy Story 3" a bone in the Best Animated Feature, directing and screenplay categories this year, but the absence of Disney product in virtually every other field is clearly evidence of a reaction to the studio withdrawing from the organization earlier this summer. Credibility: out the window.
As best as I can tell, "How to Train Your Dragon" led the way considerably with 15 nominations.  And I think we can pretty well expect the film to triumph in quite a few of them, including Best Animated Feature, when the awards are handed out February 5.
A distant second with seven total bids was Universal's "Despicable Me," but fret not, DreamWorks was right back in there at third with six nods for "Shrek Forever After."
Sylvain Chomet's "The Illusionist" and DreamWorks' "Megamind" each won five nominations, while the Zack Snyder-directed "Legend of the Guardians: The Owls of Ga'Hoole" brought down a lowly four.
The Best Animated Feature field does little to clear up which three films will represent the form with Oscar, as the five frontrunners — "Despicable Me," "How to Train Your Dragon," "The Illusionist," "Tangled" and "Toy Story 3" — were all cited.
But mostly it's a DreamWorks party with this organization yet again, as expected.  If you don't like it, hey, join the Annies!  Just about anyone can walk in off the street and become a member, after all.  Check out the full slate of nominees at The Circuit.
[Photo: DreamWorks Animation]