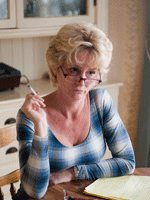 The Washington, D.C. Area Film Critics Association will officially announce its winners tomorrow (after releasing a list of nominees yesterday), but we've got them for you in advance at The Circuit.
David Fincher's "The Social Network" took the Film/Director/Screenplay trifecta, while Christopher Nolan's "Inception" was the big winner over all, taking four awards including Best Original Screenplay.
Also notable was Melissa Leo and Christian Bale's wins in the supporting categories, a one-two punch for "The Fighter" that could well be reflected by the Academy in a couple of months.  Meanwhile, "The Town" has taken its second ensemble award (along with last week's National Board of Review honor).  Could this all be prelude to a SAG ensemble nod and, eventually, a Best Picture nomination?  I'm thinking yes.
Elsewhere, Colin Firth and Jennifer Lawrence won the lead actor and actress awards, while "Black Swan," despite racking up seven nominations, did not come away with a single win.
Last year the organization went with Jason Reitman's "Up in the Air" for Best Picture, splitting the Best Director off for Kathryn Bigelow.
Check out this year's full list of winners over at The Circuit.
[Photo: Paramount Pictures]