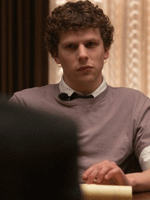 I have to say, this year's list of awards nominees from the Washington, D.C. Area Film Critics Association is even more uninspired and Oscar-guessing than last year's slate.  But they kick off the critics' awards circuit nevertheless.
Winners will be announced Monday, but I imagine "The Social Network," which racked up a field-leading eight nominations, will be declared Best Film and continue to be rather dominant as the critics' darling of the year.  The Oscar question, however, is whether the critics can force the issue like they did last year.
Or is there just not a sexy enough narrative as 2009's battle of the exes to get it there?
You know what I think.  But anyway, head on over to The Circuit to see what they're springing for in the nation's capital.
[Photo: Columbia Pictures]