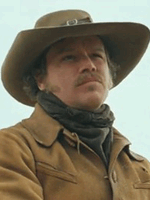 • The biggest news of this busy week may well have been the announcement of James Franco and Anne Hathaway as this year's Oscarcast hosts.
• Unless you count "The Social Network" dominating the National Board of Review as bigger news, that is.
• Or, for that matter, our first look at the Coen brothers' "True Grit."
• Speaking of which, Kris reported on the current eligibility status of Carter Burwell's score (still up in the air).
• Guy launched a new column humbly asking for consideration of quality work from the first half of the year, beginning with stand-out supporting actresses.
• "Winter's Bone" led the way with the Indie Spirit nominations…
• …the day after winning two Gotham Awards, including Best Film, on the east coast.
• Also revelead this week were the seemingly arbitrary International Press Academy's Satellite Award Nominations.
• The Producers Guild of America announced nominees for documentary features.
• Gerard took another dive into the Best Visual Effects race, wrapping up his in-depth looks at the crafts fields.
• And in a similar vein, we offered up an exclusive look at the production design of "Black Swan."
• Chad's Life Without Oscar series continued with a look at 1995 and 1996.
• Kris attended Fox's annual holiday shindig and gathered some quick sound bytes from talent on hand.
• His Off the Carpet column previewed the awards madness set to unfold in the coming weeks.
• He also went on record for the first time with a list of winner predictions (not to be taken too seriously yet, mind you).
• AMPAS narrowed the live action and animated short categories to 10 films each.
• Kris offered a rebuttal to Robert Duvall's recent Kubrick-bashing in the form of some insightful commentary from actor Leonardo DiCaprio in a preview of his lengthy sit-down with the "Inception" and "Shutter Island" star.
• In more somber news, we said goodbye to director Irvin Kershner and actor Leslie Nielsen.
• And finally, Kris and Anne summed up the week's goings on in Oscar Talk, joined by indieWIRE's Peter Knegt.
[Photo: Paramount Pictures]