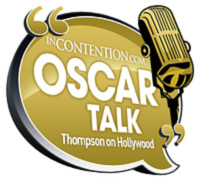 Welcome to Oscar Talk.
In case you're new to the site and/or the podcast, Oscar Talk is a weekly kudocast, your one-stop awards chat shop between yours truly and Anne Thompson of Thompson on Hollywood. The podcast is weekly, every Friday throughout the season, charting the ups and downs of contenders along the way. Plenty of things change en route to Oscar's stage and we're here to address it all as it unfolds.
Given the indie film announcements of the week, it seemed a good time to bring indieWIRE's Peter Knegt back on to discuss those events and add perspective to the usual topics, of which there are plenty. Let's dive in and see what's on the docket today…
• The National Board of Review announced its list of award winners yesterday, "officially" kicking off the 2010 film awards season. We discuss the slate and the curious omissions.
• Earlier this week the IFP Gotham Independent Film Awards were held in New York. Peter was in attendance and offers his perspective on the ceremony.
• Also announced this week were the nominations for the Film Independent Spirit Awards, which its own share of curious snubs and inclusions. We discuss.
• The Coen brothers' "True Grit" finally came out of hiding this week with screenings on both coasts. Peter hasn't seen the film yet but Anne and I offer our thoughts on this very traditional western.
• Also dropping this week was the news that Anne Hathaway and James Franco will be hosting the 83rd annual Academy Awards, an unexpected choice to say the least. We give our thoughts.
• Finally, reader questions, including queries about a hypothetical five-film Best Picture slate, an apparent influx in populist cinema finding room in the Oscar race and how we all got our starts in the blogosphere.
Have a listen to the new podcast below, with Johnny Cash solemnly leading the way. If the file cuts off for you at any time, try the back-up download link at the bottom of this post. And as always, remember to subscribe to Oscar Talk via iTunes here.
[display_podcast]

Back-up download: Oscar Talk Episode 43