I find it somewhat appropriate to be ending my in-depth looks at the crafts categories with a discussion of Best Visual Effects. This is, after all, a category which awards the sort of behind-the-scenes crafts work that is often prominently displayed in advertisements and talked about with reverence after the film ends.
When looking at the category's history, it is not surprising that major blockbusters have fared the best here, with big budgets and even big revenues usually being a prerequisite to be considered for a nomination. Visual effects that "stick out" are usually rewarded, even if the film is not particularly loved. Of course, being in a beloved film helps, especially in the race for the win.
Prior to this year, there had been only three nominees in this category. Now, there will be five. This means we won't get the "clues" that come when a list of seven bake-off finalists was announced in previous years. That said, I feel we've got a lot of clues about what the final five will be already.
I continue to firmly believe that Christopher Nolan's "Inception" is leading the way here and its crew members are likely to find themselves Oscar winners in a few months. Nolan's most visually innovative film was loved by the public and the critics. With many of his "The Dark Knight" collaborators on board again, this was one of the most visually arresting and interesting films in recent years.
Also having made a killing at the box office is Tim Burton's "Alice in Wonderland." With a crew led by five-time winner Ken Ralston and a massive green-screen production that resulted in most of the images being at least influenced, and usually created, by visual effects, I will be very surprised if this effort is not also among the final five come January.
Yet another blockbuster that came out in the summer and made a gazillion dollars is "Iron Man 2." While Jon Favreau's sequel was not as well-received as its predecessor, it nevertheless performed just as well at the box office and the effects remained tremendously impressive. While perhaps not as assured as the above two films, I'm confident the crew will repeat their feat from two years ago.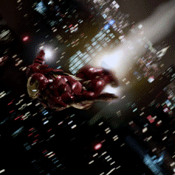 It should come to no one's surprise that "Harry Potter and the Deathly Hallows: Part 1" remains at the top of the box office. The second-to-last entry in this saga continues to get good, if not outstanding, reviews, while also delighting Potter fans. The series has had a mixed run at the Oscars, only finding a home in this category once.  Nevertheless , the expansion to five nominees, combined with a lack of competitors and sentimentality about the series, leads me to believe that Tim Burke and crew are heading to a nomination.
My final bet to be among the final five is "TRON Legacy." Opening in a few weeks, the film will have the opportunity to be the major blockbuster of the holidays. Visual effects have been prominently featured in the advertisements and will surely be key to the film's success, or lack thereof. I'd say that the effects team, led by past winner Eric Barba, is in solid shape.
It might sound ludicrous to sound so confident in what the final five will be from this distance, but I honestly feel these will be the five. What is the competition?
"The Chronicles of Narnia: The Voyage of the Dawn Treader" is an attempt to revive this franchise after the disappointment of "Prince Caspian." While "The Lion, the Witch and the Wardrobe" found a home here five years ago, and this title will undoubtedly have effects of similar caliber, will the film catch on in any way? Will it be able to distinguish itself from its predecessors and the other sequels, which seem to be in better shape?
Another more artistic title that also might be in contention is "Black Swan." Darren Aronofsky's latest has divided critics and audiences like no other title this year. It is visually fascinating, with important and creative visual effects work. But if "The Fountain" could not make the final seven, I'd be surprised if this made the final five, even if it has been better received.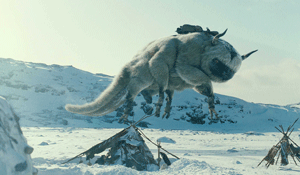 Similarly, Julie Taymor's "The Tempest" has effects even more prominent than those on display in the Aronofsky title. But her movie is probably every bit as divisive, without the strong fans. Could it make it? Sure. Would I bet on it? Absolutely not.
I'll end by mentioning two very different summer efforts. "The Last Airbender" was unsurprisingly awful. Then again, its effects were essential to its success. Moreover, they were BIG. Really big. And the film performed better at the box office than M.Night Syamalan's recent efforts. Take it for what it's worth.
I'll end by mentioning "Scott Pilgrim vs. The World." I must say that I really enjoyed this clever, if bizarre, title. Moreover, its effects, though not as showy as many of the other films in play, were absolutely integral to the story. If that had to be considered in the deciding this category, I would place this much higher. But is it? I'm not sure.
Believe it or not, we've now reached the end of our second run through the crafts categories – with one exception. Next week, Kris will take our first and only in depth look at Best Original Song. After that, we'll end 2010 by looking at two films I expect to score across many crafts categories via our Tech Support Interview series.
[Photos: Walt Disney Pictures, Paramount Pictures]