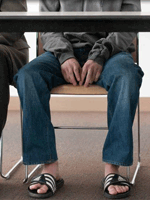 The National Board of Review announcement is historically considered the "official" start of the film awards season, but with things like the Gotham Awards, Indie Spirit nominations and even the Hollywood Film Awards creeping more and more into mid-fall, this doesn't seem to be the case anymore.
Today the organization announced winners in the usual categories, winners to be honored at a New York ceremony in January.  Last year the organization picked "Up in the Air" as its Best Film winner, greatly solidifying the buzz of early December 2009.  This year, they've gone with David Fincher's "The Social Network."
The film also took home awards for Best Director (David Fincher), Best Actor (Jesse Eisenberg), Best Adapted Screenplay (Aaron Sorkin).  Most exciting for me is to see that Lesley Manville won Best Actress for her performance in "Another Year." The flames seemed to be dying as of late.  Christian Bale and Jacki Weaver won in the supporting races for "The Fighter" and "Animal Kingdom," respectively.
I was happy to see pop up on the group's top 10 list (which does not include its Best Film winner).  Dante Ferretti's production design from the film was also award.  And it's interesting to note that "The Town" took the Best Ensemble Cast award in addition to having a presence on the top 10.
Perhaps most eyebrow-raising was Chris Sparling's Best Original Screenplay win for "Buried." And most certainly it's stunning to note that "Black Swan," "The Kids Are All Right" and "127 Hours" were all shut out of the awards entirely. But I'll let you mull the winners over yourself.  Check out the full list at The Circuit.
[Photo: Columbia Pictures]