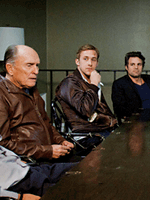 It was interesting this morning to see Robert Duvall's recent comments on Stanley Kubrick's process with actors making the rounds.  Duvall chimed in with trademark candor at The Hollywood Reporter's Actors Round Table when the issue of exhaustive takes came up.  "The Social Network" director David Fincher is known for doing quite a few, and Kubrick was infamous for it.
The actor called the work of Kubrick actors "the worst performances I've ever seen in movies" and even went so far as to call the director an "actor's enemy."  I'd maintain that Kubrick's films have rarely been about performance above formalism, but that's me.  Though the comments did remind me of a similar aside I had with actor Leonardo DiCaprio.
I sat down with the "Inception" and "Shutter Island" star over the weekend to discuss, mainly, the latter and his work with director Martin Scorsese over the years.  In the midst of detailing his on-set process with the director, DiCaprio went off on a small tangent about the potential value of exhaustive takes and I thought it would make a nice rebuttal to Duvall's point of view.  Check out the audio after the jump.
[display_podcast]
Of course, I think there is plenty of truth to what Duvall says.  It really just depends on the process and the kind of portrayal a director is looking for.  But it's worthy of a spirited debate, so what do you have to say about it?
Check back next week for a piece built around my talk with DiCaprio.  It was an enlightening 45 or 50 minute discussion covering all bases.
[Photo: The Hollywood Reporter]