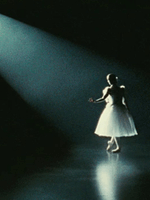 20th Century Fox held its annual holiday party on the roof of the Thompson Hotel in Beverly Hills last night. It afforded a good opportunity to corral press members into a tight space with talent from the studio's five awards season contenders.
Newly tapped Oscar host Anne Hathaway was on hand (with "Love & Other Drugs" co-star Jake Gyllenhaal), but her co-host James Franco couldn't make it.  I chatted briefly with "127 Hours" director Danny Boyle and screenwriter Simon Beaufoy, as well as "Never Let Me Go" composer Rachel Portman (who seemed quite prim and shy).  I know "Conviction" screenwriter Pamela Gray was making the rounds but I never got a chance to say hi.
I did, however, finally meet one of the cinematographers from "127 Hours," Enrique Chediak.  And as we were talking, a publicist tapped me on the shoulder and asked, "Would you like to talk to Anthony Dod Mantle?"  Of course I would, so I turned and staring back at me was Mantle live via Skype from Cape Town, South Africa, where he's currently filming Pete Travis's "Judge Dredd" reboot with Karl Urban.
It was somewhat surreal to be talking about the use of 3D photography with a man whose early involved the no-frills Dogme95 movement, but Mantle is passionate as ever about the work and, as always, quite the gentleman.  I was sorry to hear that he and director Lars Von Trier have fallen out as of late.  Maybe there's a distant future in the collaboration that has yielded powerful work in films like "Dogville" and, the pinnacle of his achievements I think, last year's "Antichrist," but it seemed a bit dire.  What he and Chediak have accomplished in "127 Hours" is spirited and inventive, and it sounded like he had a blast on the shoot.
Looking at the Skype set up, Darren Aronofsky jokingly said to me, "Aw, I could have done that from New York."  The last time I saw the "Black Swan" director he asked with a smirk, "Hey, why am I not on your list," referring to predictions for Best Picture and Best Director, where I've vocally been apprehensive that the Academy will grasp the achievement.  "Have faith," he said to me last night.  "Things are changing."  And he's not wrong, really.  The list of Best Picture winners beginning with "The Departed" in 2006 have been incredibly atypical and new blood is pumping into the organization every day.
As we were talking, he noticed the trailer for Terrence Malick's "The Tree of Life" playing on a loop on televisions scattered around the venue.  How did I miss this?  There was no sound, of course, but the imagery was absolute GORGEOUS.  The trailer will be attached to prints of "Black Swan" opening in limited release this weekend.
I wasn't able to stay long but it was a fun night.  I only humbly suggest next year picking a spot without such a precariously positioned swimming pool.  I think everyone was just waiting to see which poor soul would be the one to take a tumble.
[Photo: Fox Searchlight Pictures]