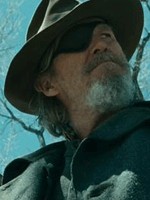 I've seen the Coen brothers' "True Grit" twice now, and it's not because the film is some "Inception"-like, mind-bending narrative maze. Quite the opposite, actually. I saddled up to it a second time yesterday morning because I wasn't quite anticipating what I got the first time around and I wanted to consider it further knowing what it was.
You see, this isn't really "a Coen brothers film" to me. Outside of an opening act bathed in their usual trappings, the film feels almost anonymous, lacking the fingerprint stirringly present in each and every one of their efforts. And it's all very much by design, by the way.
"True Grit," in its second screen iteration, is a classic western cut from traditional cloth. With its wide vistas, simple narrative and focus on character dynamics (as well as a handful of unrefined horse-back riding effects shots), it's fair to say it bears more of a resemblance to the work of Anthony Mann, John Ford and Budd Boetticher than it does that of the Coens. The film isn't focused on being as tight and complete as most of their films, and indeed, inchoate was very much a goal here.
I wasn't expecting that. I was expecting a style exercise, something that would allow for Roger Deakins to sink his teeth into the scenery and come away with some of the most inspiring images he has ever captured. I was expecting theme to noticeably and boldly course through the mise en scène as it craftily does in every Coen enterprise from "Blood Simple" through "A Serious Man."
But that lack of artistic intrusion is ultimately the film's virtue. This is a throwback, and a reminder that the western need not necessarily function as progressive storytelling (a notion that would have delighted late author Robert Parker). It's very much about time, place and character, and all else need defer to that and fade.
These particulars are filtered through the vision and language of Charles Portis, whose novel seems tailor-made for Coen interest with its mundane dialogue and somewhat vacant thematic canvas. As regards the former, I was reminded of Cormac McCarthy while reading it over the summer. But unlike "No Country for Old Men," which was adapted with fussy visual swagger, "True Grit" is tackled in a straight-forward manner, allowing for the players and their actions to solely convey the experience.
In that light, perhaps it is very much a Coen film after all. What they exceed at is perfectly casting their films, knowing what they want from their actors (something generally quite unique, which is what makes them unique as filmmakers) and providing a visually interesting space for them to perform.
This has lead to countless memorable walk-ons over the years, whether it's Steve Park in "Fargo," Stephen Root in "O Brother, Where Art Thou?," Gene Jones in "No Country For Old Men," Amy Landecker in "A Serious Man," the list is endless. And we can add the likes of Joe Stevens, Ed Corbin and, most certainly, Dakin Matthews to that list now.
Additionally on the cast's periphery, Josh Brolin brings an odd energy to outlaw Tom Chaney while Barry Pepper is doing his best Robert Duvall impression in the "Lucky" Ned Pepper role Duvall originated. But the film is mainly focused on a carefully assembled trio in Jeff Bridges (as ornery U.S. Marshal Rueben "Rooster" Cogburn), Matt Damon (as prideful Texas Ranger La Boeuf) and newcomer Hailee Steinfeld (as headstrong vengeance seeker Mattie Ross). And what a delight they are, fully immersed in their characters at every turn.
The film opens with a calm and beautiful tracking shot depicting the fallout of the tale's inciting incident (the murder of Mattie's father, Frank Ross) with Portis's words laid over top. This breaks from the novel (and Henry Hathaway's original film) by disregarding the opportunity to get to know Frank early on, and it's probably better for it, thrusting Mattie even further to the front as the driving element of the narrative.
And in Steinfeld, a star is born. The Coens exhaustively auditioned countless young girls for the role and they turned up a real gem here. Steinfeld delicately plays off of stalwart steadfastness, pent-up mourning and even awakening romantic longing on the way to crafting a completely realized character.
(Which brings me to an aside.  Paramount's official Oscar position on this performance is supporting.  That's where it will be campaigned, and I gather that it has to do with it being presumptuous to campaign a young actress's debut performance as a lead. My opinion: nonsense.  This is a performance worthy and deserving of a lead actress nomination.  That having been said, I don't know who else could win in the supporting actress category, so perhaps the studio is seizing an opportunity that Sony Pictures Classics has ignored with Lesley Manville.)
Bridges, meanwhile, gets under Cogburn's skin more fully, dare I say it, than John Wayne in the original adaptation (the role that won The Duke his Oscar). And while his chemistry with Steinfeld is vibrant and authentic, the waters are never muddied by shoehorning inauthentic fatherly relationship or connectivity dynamics.
And Damon has, quite simply and perhaps even quietly, developed into one of the finest actors of his generation. He isn't doing anything particularly sensational here, but that is rather the point of his performance's brilliance. It's in the eyes, the tambour in his voice at the whose-is-bigger goading of Bridges's Cogburn, and the otherwise stoic pride of a confidant lawman.
The Coens' approach to the film also gives way to a period authenticity that must be respected. Jess Gonchor's production design and specifically Nancy Haigh's set decoration is of the highest quality and precision. Mary Zophres's costume design gives the film an identity unto itself in the canon of western cinema. Deakins's camerawork gracefully captures the landscape while the hair and makeup serves each character fully and uniquely.
Most impressive, though, might be Carter Burwell's humble contribution as composer. His themes soar and trickle with equal measure and have remained in my head since I first saw the film.  They are also nicely balanced with crisp effects into a sound mix that becomes part of the experience.  (There is, however, some discussion as to whether the reliance on hymns of the period might disqualify the score for Oscar consideration, but it is nevertheless perfectly suited to the film.)
It wasn't my intention to go on so long here, but "True Grit" has proved to be a bit of discovery for me over the last couple of days, and I don't know how to convey my thoughts on it without inviting you into that discovery process. It's a warm and welcome addition to a vital genre that couldn't ask for better torch bearers than the Coens and producer Scott Rudin, and one can only hope it helps keep the embers stoked on an art form consistently endangered.
[Photo: Paramount Pictures]