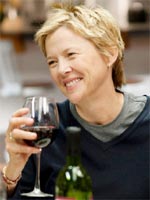 Even more so than the Indie Spirit nods that landed yesterday, the National Board of Review honors are seen by many as the season's official starting gun — though there are just as many who would question their right to such significance.
The NBR gets stick on an annual basis for a range of middlebrow sins: their weakness for soft literary awards bait, their unwavering loyalty to Clint Eastwood (watch "Hereafter" aggravate everyone by showing up in tomorrow's announcement) and their odd concessions to broad studio fare. (They'll never live down the inclusion of "The Bucket List" — over "There Will Be Blood," to boot — in the 2007 Top 10.)
But as ill-advised and frequently obvious as their choices can be, the NBR can occasionally throw us a real curveball: nobody saw Campbell Scott's Best Actor win for "Roger Dodger" coming in 2002, while the Best Picture hopes of "Quills" began and ended with its out-of-step triumph at the 2000 awards. And remember that if anyone can resist a seemingly sure thing, it's these guys: last year, this was pretty much the only stop that sweepers Christoph Waltz and Mo'Nique missed on the awards track all season.
For some reason, this feels to me like one of their play-it-safe years, perhaps because the de facto Oscar frontrunner is so comfortably in their wheelhouse to begin with. My best (or worst) guesses for tomorrow's awards announcement below. Chime in with yours in the comments.
Best Picture: "The King's Speech"
Best Director: Danny Boyle, "127 Hours"
Best Actor: Colin Firth, "The King's Speech"
Best Actress: Annette Bening, "The Kids Are All Right"
Best Supporting Actor: Mark Ruffalo, "The Kids Are All Right"
Best Supporting Actress: Dianne Wiest, "Rabbit Hole"
Best Original Screenplay: Noah Baumbach, "Greenberg"
Best Adapted Screenplay: Aaron Sorkin, "The Social Network"
Best Foreign Language Film: "Biutiful"
Best Documentary: "Inside Job"
Best Animated Feature: "Toy Story 3"
Best Ensemble: "The Town"
Best Breakthrough Actor: Jesse Eisenberg, "The Social Network"
Best Breakthrough Actress: Jennifer Lawrence, "Winter's Bone"
Best Directorial Debut: Aaron Schneider, "Get Low"
Special Achievement in Filmmaking: Darren Aronofsky, "Black Swan"
Top Ten Films (winner not included)
"Black Swan"
"Hereafter"
"The Kids Are All Right"
"Love and Other Drugs"
"127 Hours"
"Rabbit Hole"
"The Social Network"
"Toy Story 3"
"True Grit"
"Winter's Bone"
Top Five Foreign Language Films (winner not included)
"The Girl With the Dragon Tattoo"
"I Am Love"
"Of Gods and Men"
"Outside the Law"
"The Secret in Their Eyes"
Top Five Documentaries (winner not included)
"Exit Through the Gift Shop"
"Joan Rivers: A Piece of Work"
"Restrepo"
"Sweetgrass"
"Waiting for Superman"
Top Ten Independent Films
"Another Year"
"Blue Valentine"
"Cairo Time"
"Four Lions"
"Get Low"
"Greenberg"
"Monsters"
"Mother and Child"
"Please Give"
"Tiny Furniture"
[Photo: Focus Features]