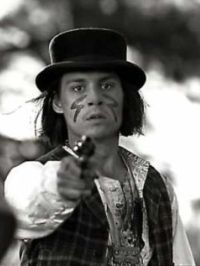 Catch up with the idea behind this series here.
I saw "Braveheart" on video and I'm not positive if that was before or after it won Best Picture at the Oscars. Whenever it was, Mel Gibson's historical epic immediately became this 13 year old's favorite movie of all time. My second favorite movie of all time back then was "Apollo 13," so it was a good Oscars for me.
1996 became famously known as the "Year of the Indie" and "The English Patient" walked away with just about every award under the sun. I seem to remember Andrew Lloyd Webber quipping, "I'm glad there wasn't a song in "The English Patient,"" while collecting his prize for "Evita."
Cuba Gooding Jr. completed the first phase of his future career as a punchline by winning Best Supporting Actor for "Jerry Maguire," while Juliette Binoche etched her name at the top of Lauren Bacall's shitlist by winning Best Supporting Actress in a huge upset.
Speaking of punchlines, Whoopi Goldberg delivered them in '95 before Billy Crystal's triumphant return in '96. Goldberg, who remains my least favorite MC of all the broadcasts I've watched, thought that following Vanessa Williams's performance of "Colors of the Wind" with a glance behind her and the line, "What color is my wind?" constituted great comedy.
But I digress.
1995 – "Dead Man" (Jim Jarmusch)
Remember when Johnny Depp was box office poison and made your Mom uncomfortable? "Dead Man" probably arrived at the zenith of that period and is an uncompromisingly bleak anti-Western from Jim Jarmusch. Many of the genre's classic tropes are present and accounted for, but the real joy in watching the film is the way Jarmusch tweaks and deconstructs them.
Let's start with the cast, though. Johnny Depp is reliably fantastic and offers a very different protagonist than we're used to in these environments. A stranger wanders into town in the opening scene, but instead of an outlaw or gunslinger, it's a bookish accountant. His eventual sidekick/partner is an Indian named Nobody, played by Gary Farmer. His performance takes a few scenes to get used to, either because his natural cadence is a little stiff or because we're just too accustomed to more racist portrayals of Native Americans in these films. Crispin Glover, Gabriel Byrne, Alfred Molina, Iggy Pop all come and go as our heroes travel through the countryside, giving fine performances each, but it's a pre-famous Billy Bob Thornton who really steals his scenes and makes an impression.
Robby Müller's black and white cinematography is a wonder to behold, successfully capturing the beauty of the vistas and the thematic spiritual journey of the character. The editing, production design and costumes are also all top notch, lending huge value to a relatively low budget enterprise. But the real story amongst the technical aspects is Neil Young's score. Almost entirely done anachronistically on electric guitar, it was apparently recorded while Young watched the cut for the first time and improvised the entire thing. As crazy as that sounds, it's not hard to believe when watching the film, and it's the kind of inspired move that seems like a decision made by someone who's never even seen a film before, let alone made one and learnt "the rules."
This carries over into other aspects of the filmmaking, such as the drastic tonal shifts that occur throughout. One minute Billy Bob is offering some light hearted comic relief and the next will present a moment of sickeningly graphic violence. It all goes hand in hand with the existential crisis Depp is having and the good vs. evil conflict Jarmusch is toying around with. All along, we're not sure what could happen next or how it will transpire, but the film progresses with an assured grace and finishes on a moment of poignance.
Jarmusch is wildly inconsistent for me and it's likely because he's one of those artists that is constantly experimenting and exploring his options and abilities. That makes his films never less than interesting, but rarely slam dunks. "Dead Man" is a happy exception and is still unlike any Western you're likely to see then or in the future.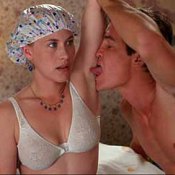 1996 – "Flirting With Disaster" (David O. Russell)
1996 was a fertile year for future heavyweights cutting their teeth. "Bottle Rocket" and "Hard Eight" are two other great films that could have a strong case made in this column. But I'd wager that more people have seen those two films than this curious charmer from soon-to-be-nominated-at-last David O. Russell. A loving homage to family ties and screwball comedies, it offered the world's first real look at Ben Stiller as a comedic leading man.
Stiller plays an adopted man about to have his first child and that triggers a cross-country search for his biological parents and his true identity. Kooks of all shapes and sizes either accompany him or cross his path in classic screwball comedy tradition and it's a truly amazing parade of actors- including future nominees Josh Brolin and Richard Jenkins as a pair of special agents/lovers. Among the two sets of parents in the film, it's hard to decide which pairing is more inspired, Mary Tyler Moore and George Segal or Lily Tomlin and Alan Alda, but both are equally entertaining to watch.
All of these actors wouldn't be able to save poor material so it's a good thing that Russell has always excelled in his writing. The dialogue is sharp, intelligent and fast paced, as it should be in a comedy of errors, and while his directorial chops would be greatly enhanced by the time "Three Kings" and "I ♥ Huckabees" came around, he still keeps things brisk and tight. It's a particular credit to his skills that despite a cast of characters stretching into double digits, all of them feel fully alive and complex, with special mention to Patricia Arquette for handling the unenviable task of providing a straight-faced anchor to the proceedings and doing it flawlessly.
It's films like "Flirting With Disaster" that make me so depressed when people make gigantic hits out of flaccid comedies like "The Hangover" and "The 40 Year Old Virgin." It's a film that features bizarre circumstances and set-ups, but it is always in service of the characters and gets almost all of its laughs out of our attachment to them and their relationships. It never dumbs down the characters for a cheap laugh and it features women who aren't completely useless, if you can imagine such a thing in a Hollywood comedy.
Those are my picks. What do you guys think?
[Photo: The Guardian]
[Photo: Photobucket]