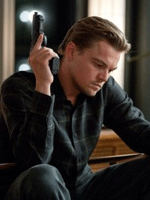 I say over 150 because I honestly lost count.  In any case, the International Press Academy has announced it's slate of nominees for the 15th Annual Satellite Awards, and as usual, every film under the sun seems to have been nominated for SOMETHING.
Actually, not every film.  Obviously the organization didn't see "True Grit" before the voting deadline, as the film wasn't nominated for a single thing.  Nor was "The Way Back," though I don't know whether they saw it or not.  But "Dinner for Schmucks" and "The Other Guys" are well-represented!  As best I can tell, "Inception" leads the way with 11 nominations.
I think I may have forgotten to post this announcement last year.  I don't know what kind of stock you might put into the Satellites, but it's an annual film award announcement nevertheless.  Check out the full slate of nominees at The Circuit.
[Photo: Warner Bros. Pictures]