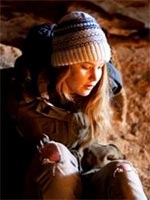 Well, quelle surprise. I've been saying for months now that Debra Granik's solemn Ozark thriller is — even more so than the sunnier, starrier "The Kids Are All Right" — this year's annointed indie cause in the Oscar race, and this only cements that belief. The film's impressive showing this morning, coming on the heels of last night's Gotham Awards triumph, has me more confident than ever that the tiny pic is set to repeat the trajectory "Precious" made last year from Sundance champ to Best Picture nominee.
A number of its companions in the Best Feature race could join in there too, as the Spirits largely favored big-name fare in the top categories: "The Kids Are All Right" took second place in the nomination count, with five, while "Black Swan" and "Rabbit Hole" (which clearly just missed the cut in the feature race) are just behind with four apiece.
Continuing the Oscar-contender parade, "127 Hours" nabbed a Best Feature nomination too, as did director Danny Boyle and star James Franco. Indeed, in a  list that features most of the year's most-touted indie features, the biggest surprise is the near-total blanking of Derek Cianfrance's "Blue Valentine," the kind of challenging, critically championed kitchen-sink piece that is usually catnip to these voters. Harvey Weinstein will be disappointed with the film's solitary nod for Best Actress, as am I — at the very least, the omission of Ryan Gosling (who only gave my favorite male performance of 2010) from the Best Actor category is inexplicable.
Equally conspicuous by his absence (though less missed by yours truly) in the Best Actor category is one Robert Duvall; in both cases, however, it's wise to remember the Spirits' history of eccentric off-beam snubs before making too many connections with the Oscar race. (In recent years, Josh Brolin, Marisa Tomei, Laura Linney, Catherine Keener and Jake Gyllenhaal all missed this particular stop en route to their Oscar bids.)
By contrast, the Best Actress category is stuffed to the gills with serious Oscar contenders; it's indicative of the riches of this year's female field that they wound up with six nominees. Spare a thought for the wonderful Greta Gerwig, here rather made to look like to lone guest in jeans at a black-tie function.
Beyond that, I don't have much to add, beyond cheering for the lovely, minorly acknowledged "Au Revoir Taipei," and predicting a "Winter's Bone" victory (but in a field this strong, perhaps not a sweep) come February 26. How far away does that sound?
Best Feature
"Black Swan"
"Greenberg"
"The Kids Are All Right"
"127 Hours"
"Winter's Bone"
Best Director
Darren Aronofsky, "Black Swan"
Lisa Cholodenko, "The Kids Are All Right"
Danny Boyle, "127 Hours"
John Cameron Mitchell, "Rabbit Hole"
Debra Granik, "Winter's Bone"
Best Actress
Annette Bening, "The Kids Are All Right"
Greta Gerwig, "Greenberg"
Nicole Kidman, "Rabbit Hole"
Jennifer Lawrence, "Winter's Bone"
Natalie Portman, "Black Swan"
Michelle Williams, "Blue Valentine"
Best Actor
Ronald Bronstein, "Daddy Longlegs"
Aaron Eckhart, "Rabbit Hole"
James Franco, "127 Hours"
John C. Reilly, "Cyrus"
Ben Stiller, "Greenberg"
Best Supporting Actress
Ashley Bell, "The Last Exorcism"
Dale Dickey, "Winter's Bone"
Allison Janney, "Life During Wartime"
Daphne Rubin-Vega, "Jack Goes Boating"
Naomi Watts, "Mother and Child"
Best Supporting Actor
John Hawkes, "Winter's Bone"
Samuel L. Jackson, "Mother and Child"
Bill Murray, "Get Low"
John Ortiz, "Jack Goes Boating"
Mark Ruffalo, "The Kids Are All Right"
Best Screenplay
Stuart Blumberg and Lisa Cholodenko, "The Kids Are All Right"
Todd Solondz, "Life During Wartime"
Nicole Holofcener, "Please Give"
David Lindsay-Abaire, "Rabbit Hole"
Debra Granik and Anne Rossellini, "Winter's Bone"
Best Documentary
"Exit Through The Gift Shop"
"Marwencol"
"Restrepo"
"Sweetgrass"
"Thunder Soul"
Best Foreign (Non-American) Film
"The King's Speech"
"Kisses"
"Mademoiselle Chambon"
"Of Gods and Men"
"Uncle Boonmee Who Can Recall His Past Lives"
Best First Feature
"Everything Strange and New"
"Get Low"
"The Last Exorcism"
"Night Catches Us"
"Tiny Furniture"
John Cassevetes Award (Best Feature Made For Under $500,000)
"Daddy Longlegs"
"The Exploding Girl"
"Lbs."
"Lovers of Hate"
"Obselidia"
Best First Screenplay
Bob Glaudini, "Jack Goes Boating"
Nik Fackler, "Lovely, Still"
Dana Adam Shapiro and Evan M. Wiener, "Monogamy"
Diane Bell, "Obselidia"
Lena Dunham, "Tiny Furniture"
Best Cinematography
Matthew Libatique, "Black Swan"
Harris Savides, "Greenberg"
Adam Kimmel, "Never Let Me Go"
Jody Lee Lipes, "Tiny Furniture"
Michael McDonough, "Winter's Bone"
Robert Altman Award
The director, casting director and ensemble of "Please Give"
Piaget Producers Award
In-Ah Lee, "Au Revoir Taipei"
Adele Romanski, "The Myth of the American Sleepover"
Anish Savjani, "Meek's Cutoff"
Someone to Watch Award
Hossein Keshavarz, "Dog Sweat"
Laurel Nakadate, "The Wolf Knife"
Mike Ott, "Littlerock"
Truer Than Fiction Award
Ilisa Barbash and Lucien Castaing-Taylor, "Sweetgrass"
Jeff Malmberg, "Marwencol"
Lynn True, Nelson Walker, "Summer Pasture"
[Photo: Roadside Attractions]