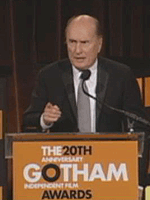 If you were able to catch the live stream of the 20th anniversary Gotham Awards tonight (nominees here), then you saw the usual slap-dash, boozed up shenanigans.
Debra Granik's "Winter's Bone" was carrying the big stick coming in with three nominations and it walked away with two awards, including Best Feature. Most surprising was the film's hot young thing actress Jennifer Lawrence being upset in the Breakthrough Actor category by "Daddy Longlegs" star Ronald Bronstein. Did signing on to "X-Men: First Class" put a bad taste in voters' mouths? Hmm…
Speaking of which, Natalie Portman went there in her cheeky intro for Darren Aronofsky's tribute, mentioning his upcoming "The Wolverine" and "Machine Man." His tribute reel, with just five films to pull from, looked killer. Talk about the beginnings of a brilliant career.
Tony Goldwyn also presented a tribute, to actress Hilary Swank, who reluctantly accepted by noting, "I'll take this more as acknowledgment that I'm on the right track," while Anne Hathaway toasted Focus Features honcho James Schamus.
Bill Murray was great in his presentation of the Lifetime Achievement Award to Robert Duvall. "I know he's a big deal because he was Boo Radley," he said. "I thought, 'Oh shit, I better watch this and see if he's good after all.' And he comes out and it's just a shadow, and his shadow is a better actor than 70% of the people in this room."
Duvall gave a heartfelt rambling speech — king of the run-on, this guy — and it was a nice tribute to independent filmmaking. Then Steve Buscemi and Melissa Leo, apparently bombed out of their heads, stumbled onto the stage to offer up the Best Film award to "Winter's Bone." And that's all she wrote.
I will say this, though.  Stanley Tucci/Patricia Clarkson > James Franco/Anne Hathaway.
Check out the full list of winners at The Circuit.
[Photo: IFP]