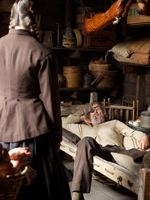 This is borderline lazy filler and distraction for the time being as the old poll was uber stale, but it's worth it to put a query like this out there since the Coens will be fodder for plenty of column inches by week's end.
But it's worth pointing out that the brothers are more prolific than ever.  "True Grit," opening nationwide December 22, is the duo's fourth film in as many years, a record streak (though if they had muscled something out in 2002, they would have had a fiver between 2000 and 2004).
The great thing about Coen cinema is that, as identifiable as it is, each film is wildly different from the last.  Though they have a signature, their work never stagnates and always remains fresh, vital and progressive.  That kind of thing lends itself to favorites so let's just put the question out there: what is your favorite Coen brothers film to date?  Have your say in the left sidebar poll and come on back to the comments section here to debate and discuss your picks.
[Photo: Paramount Pictures]