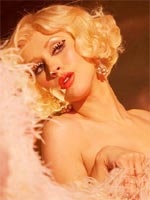 I've already stated my qualified admiration for Steven Antin's "Burlesque," likely the only live-action musical angling for a spot in this year's Best Original Song race. Or two spots, given that we already featured Cher's deliriously kitsch Diane Warren power ballad "You Haven't Seen the Last of Me" a couple of weeks ago.
Today, it's Christina Aguilera's turn to bust her lungs with a nine-octave belter from the film that she herself co-wrote — so while we're unlikely to be mentioning her name much in the Best Actress race, Xtina could yet add "Academy Award nominee" to her résumé.
The song is something of an anomaly in the gaudy, thrust-heavy production: a stately, classically arranged torch ballad that sounds rather like an offcut from Aguilera's retro-styled 2006 album "Back to Basics." (It's more likely, however, to be an offshoot of her 2010 release "Bionic," in which the song's co-writers Sia Furler and Samuel Dixon had a heavy hand.)
The song, a melodramatic expression of romantic devotion, is performed live midway through the film as Aguilera's character Ali realizes the depth of her feelings for Cam Gigandet's beefcake bartender — though their relationship is so incidental to the film's narrative development that the passion on display feels a little out of sync. As if realizing this, Antin takes a cue from Rob Marshall and stages the performance in heightened music-video style, slightly awkwardly spliced with stock montage shots of cute-couple frolicking.
It's not as melodic or as rousing as the Cher number, which also had a clearer narrative context, so if you were to bet on one of the tracks making it, that would be it. But it's a well-crafted and forcefully sung bit of pop balladry, and given the branch's noted preference for songs performed on screen, both could well make the cut — especially if voters have as much goofy fun watching "Burlesque" as I did.
Have a listen to "Bound to You" below, and as always, keep up with the Best Original Song race as it unfolds via the category's dedicated page here.
[display_podcast]
[Photo: Screen Gems]