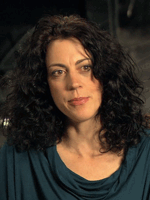 I've been wondering lately about the below-the-line aspects of "Black Swan" and whether they could find the proper respect even if the film doesn't take off in the major races. Specifically I'm thinking about Matthew Libatique's cinematography, Andrew Weisblum's film editing, Craig Henighan and company's sound design and Thérèse DePrez's production design.
On the latter, we're happy to bring an exclusive video clip spotlighting the design process of the film. These particulars are refined and thematically relevant throughout the film, but they really get vibrantly showcased in a final act that pulls together all of the various threads into one lengthy, jaw-dropping sequence that is no doubt what lingers long after you've left the theater.
In the clip, you'll hear interviews with DePrez and director Darren Aronofsky, who says he has always wanted to work with the designer of films like "Hedwig and the Angry Inch," "American Splendor" and "The Door in the Floor." It's a great look behind the scenes of the process of outwardly displaying the inner workings of the piece. Have a look after the jump.
[Photo: Fox Searchlight Pictures]