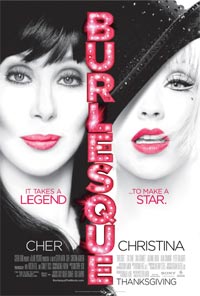 (We don't usually post reviews after the US release, but this one got snarled up in my hard drive earlier this week and I didn't want to waste it. I've noticed a number of readers posting thoughts on the film in yesterday's Cinejabber post, so look on this as your "Tell us what you thought of Burlesque'" post into the bargain.)
"There's no such thing as a guilty pleasure," a music-critic friend once told me. "Just songs that work and songs that don't. And any song that works is a pleasure." He may have been talking about pop music (and justifying the expense spent on some rather dubious concert tickets), but the sentiment is just as true of cinema: there are enough wholly joyless bad films out there that one needn't feel remorse for liking those that sparkle a little.
Or a lot, as in the case of Steven Antin's sweetly stupid and gleefully tatty backstage musical "Burlesque," a kind of cinematic party horn that unfurls for nearly two full hours, pausing only occasionally for wheezily abridged plot extension. Heroically spry performances adjoin rancidly inept ones, peppery one-liners encircle bat-brained narrative turns, even the music veers from choice cabaret to hoary album offcuts – and this gurning, flailing whole is held together with the irrepressibly sincere let's-put-on-a-show enthusiasm of a high-school drama teacher given a dream budget. It's hard to shake the suspicion that Antin is just out of shot throughout, wielding a glue gun and a spare bag of sequins.
The story, such as it is, is so crustily old the film hardly bothers to tell it at all. Do we ever ever actually see Christina Aguilera's small-town naïf Ali step off the Greyhound into sunny LA, or do we just assume we did? Is there any discernible affection between her and fetchingly guylinered bartender Jack (Cam Gigandet), or do we just imagine it because those are the rules? Are their names even Ali and Jack, or have we just mentally assigned them because that's what any jobbing screenwriter would do?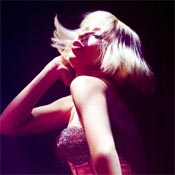 We don't care about their poxy on-off romance, of course, and neither does the film, which is far more preoccupied with Ali's swift, unlikely showbiz ascent at the financially embattled burlesque club run, with oddly maternal wantonness, by Cher. (She has a character name, too, but who remembers what it is: it's Cher, for crying out loud.) "Nobody comes here to hear the girls sing," Cher says flatly, only to be annoyingly contradicted (along with the entire creative principle of burlesque, but that's a niggle) as Ali, an unskilled, style-challenged dancer who can nonetheless sing a lot like Christina Aguilera, pulls in the punters with her epic octave-bending.
"I will not be upstaged by some slut with mutant lungs!" shrieks boozy rival dancer Nikki (Kristen Bell) in the film's—and possibly the year's—single greatest line. She can at least take some consolation in the fact that Aguilera is comprehensively upstaged in her own big-screen arrival: alert only to her musical numbers and coming to this wide-eyed ingénue role approximately 10 years too late (could this vehicle not have been tailored for Rihanna?), she proves as rigidly unlikeable a presence on screen as on record, though a lot less proficient.
It's hard not to wish "Burlesque" had a funnier, spunkier leading lady, but happily, Cher spots the problem and offers double helpings of winking, sashaying wit to make up for it. Entering proceedings as the purring showpiece of the film's most sharply executed musical number, she goes on to locate nested vulnerability and on-the-ropes fight in the script's addled pointers, socks a splendidly ridiculous Diane Warren power ballad and even manages to straight-facedly sell the line, "I held your head over the toilet while you vomited up everything but your memories." (Not a strict transcription: I was laughing too heartily to take notes.) Best Supporting Actress campaigns have been built on less.
She's abetted throughout by Stanley Tucci, who, following similarly invaluable recent turns opposite Meryl Streep and Patricia Clarkson, is morphing into a kind of chemical reactant for middle-aged actresses. But if they, alongside brilliant costumer Michael Kaplan (who's having a ball here, without losing sight of the necessary homemade aesthetic), are the most high-end benefactors of "Burlesque," the less adept but equally game efforts of Antin shouldn't be entirely dismissed.
Cribbing shamelessly from Bob Fosse and Rob Marshall alike in his staging and keeping the screen busy, if not exactly pretty, at all times, he keeps this chintzy parade float, well, floating so cheerfully one's tempted to ignore its glassy lead and creepy sexual politics. (Apparently Jack must apologize for having a fiancée, while Ali is free to romp around with slimy contractors in exchange for Christian Louboutin shoes. Good to know.) "Show me how you burlesque," Aguilera exhorts in the closing number, and while I'm not exactly sure what "burlesque" means as a verb, "Burlesque" certainly does.
[Images: Screen Gems]