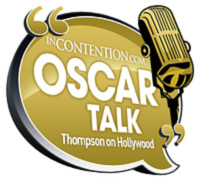 Welcome to Oscar Talk.
In case you're new to the site and/or the podcast, Oscar Talk is a weekly kudocast, your one-stop awards chat shop between yours truly and Anne Thompson of Thompson on Hollywood. The podcast is weekly, every Friday throughout the season, charting the ups and downs of contenders along the way. Plenty of things change en route to Oscar's stage and we're here to address it all as it unfolds.
Anne and I are in a bit of a food coma today, so the podcast was a bit all over the place. We free associate from topic to topic bringing in your questions where applicable, but there's a lot to digest. Let's see what's on the docket today…
• Both of us met separately with "The Way Back" star Jim Sturgess this week. We talk about him and his work and reveal further concern about the film's Oscar prospects in the season's brutal environment.
• The Best Actress race has all of its cards on the table as "Frankie & Alice" continues to screen (I caught up with it this week, though Anne hasn't gotten around to it yet). We run down the field one more time.
• With "The King's Speech" opening today, the presumed Oscar frontrunner goes before the public to be judged. We talk about why we still think, more than ever, that it is the film to beat in the Best Picture race.
• Also making the press rounds this week was Jeremy Renner. We discuss his film, "The Town," and how it could tap into a vein of commercialism under-represented this year.
• Finally, reader questions. Just a couple, including queries about the festival process and box office impact on voters.
Have a listen to the new podcast below, with a precious taste of Carter Burwell's "True Grit" score leading the way. If the file cuts off for you at any time, try the back-up download link at the bottom of this post. And as always, remember to subscribe to Oscar Talk via iTunes here.
[display_podcast]

Back-up download: Oscar Talk Episode 42