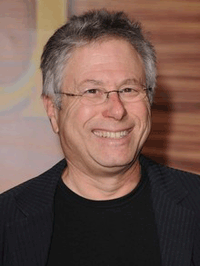 Sitting at the Four Seasons' Culina Restaurant with a tomato juice in hand, politely asking to turn the heaters up on a fair weather day, composer Alan Menken recalls the afternoon before, when he received a star on the Hollywood Walk of Fame.
"That was a trip," he says. "I didn't know how much to make of it or not to make of it. It's not a moment where someone says, 'You've won this because you accomplished this.' It's a moment in time when someone says, 'You know what? You should have a star.'"
And it's not the most out-of-line observation, given what Menken has meant to filmmaking, particularly animated filmmaking over the past two decades. It seems surprising that, however political an honor such as this may be, that he didn't have one. But like he seems to take most praise, Menken was politely appreciative and didn't quite know what else to make of it.
"It was almost a little like going to a funeral. Because they have the thing covered up and you're standing there and then they uncover it. And then I went back later in the day to visit my star and it's a little strange, your star is still there and you're walking away. On cold nights I can picture homeless guys peeing on it."
The star rests on the sidewalk outside of Disney's El Capitan Theatre, a fitting place given Menken's undeniable contribution to the studio's legacy over the last 21 years.
Beginning a renaissance
Menken and his songwriting partner Howard Ashman were coming off a real high in the late 1980s, following the success of "Little Shop of Horrors." That film landed Menken his first of 18 Oscar nominations (for the track "Mean Green Mother from Outer Space") and following that, he and Ashman were on separate paths.
Somewhere around this time, David Geffen, a producer on "Little Shop of Horrors," was singing Ashman's virtues to Disney honchos Jeffrey Katzenberg and Michael Eisner, that the songwriter "understood how songs function in dramatic work," as Menken puts it. They brought Ashman to Los Angeles to discuss three projects — a Tina Turner biopic then titled "I, Tina," which eventually became "What's Love Got To Do With It?," "Thief of Baghdad," some of which eventually found its way into "Aladdin," and the Hans Christian Anderson adaptation "The Little Mermaid."
To their surprise, Ashman sprang for the Anderson title.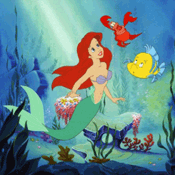 "Howard had a real love for children's theater and for Hans Christian Anderson," Menken says. "As much as he was hip and cutting edge and tough and brilliant, he had a real soft spot for these children's stories. So he called me up, and I think he had a choice, he could have called Marvin [Hamlisch, with whom Ashman was working at the time], and asked if I'd be interested in working on it. I was thrilled."
This was a period of time when VHS tapes were being introduced to the marketplace. And Menken, being the parent of a two-year-old, was able to rediscover Disney classics with his daughter.
"It was so magical at the time, to watch 'Snow White' or 'Cinderella' with your kids," he says. "And to go back to what you felt when you were a kid was just unreal. Then all of a sudden I'm working on one."
After a meeting at Ashman's apartment with directors John Musker and Ron Clements, a plot and song structure was mapped out. Over the course of the next year or year and a half, the score was constructed with synth demos and the whole project was presented to the suits for approval.
"They said, 'This is great. Let's do it,'" Menken recalls. "It was a wonderful moment. I think it was meant to be that Howard and I rejoined to do it. He and I both were a really good match for animation. Me being a young parent didn't hurt, but my affection for animation, the child in me, I think really allowed me to not condescend to the material at all. And it had a lot of emotional intensity.
"To me, 'A Part of Your World' is really the follow-up to 'Somewhere That's Green.' 'Under the Sea' is the follow-up to 'Little Shop of Horrors' and 'Feed Me.' 'Poor Unfortunate Souls' is the follow-up to 'Dentist.' To me, I see the connections in our work."
Speaking of "Under the Sea," the Harry Belafonte-inspired track brought Menken his first Best Original Song Oscar at the 1990 Academy Awards celebration (he also won the Best Original Score Oscar for the film). Describing the process of cooking up the track, Menken says he and Ashman "were somewhere between reggae and calypso in trying to figure out exactly the right feel. He said he wanted a riff that would sort of roll back onto itself."  Like so:
[display_podcast]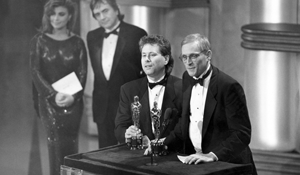 "I remember with 'Little Shop,' we were nominated for Best Song and we went there and were sitting in the middle of this aisle, all the way in the middle. It was really going to be work to get out of those seats. And with 'Under the Sea,' we show up, and…right on the aisle. I said, 'Ah, I think someone thinks we're going to win.' It's so atypical of the kind of song that wins an Oscar. It's like an up-tempo novelty song. It said volumes that we won in terms of the taste of people at that time. They really were turned on by, I think, the integrity of the score. It was huge, a stage work created for animation, and people responded to that in a really big way."
And how. The film and collaboration kick-started a renaissance in Disney animated feature production that would stretch all the way to the studio's 50th animated endeavor, the Rapunzel adaptation "Tangled," also featuring Menken's music.
Tragedy and triumph
After "The Little Mermaid," Menken had two Oscars and plenty of cachet. But at the Governors Ball the night of the Oscars, the first signs of trouble in his collaboration with Ashman began to surface.
"Howard was very ill that night and I didn't know he was, because I didn't know he suffered from AIDS," Menken says. "I remember going up and winning for Best Score and sitting back down and feeling anxious that we'd win for Best Song, because Howard so deserved that. He was the one who convinced me to write the score for 'The Little Mermaid.' I'd never written a film score before. He very uncharacteristically allowed me to do a lot of the talking, because he was just not well. It was just so hard for him, and I didn't know. Then at the Governors Ball, he said to me, 'We have to talk. Not now, but when we get back to New York, we have to talk.' Then he told me and we were in the midst of working with 'Beauty and the Beast,' and I thought, 'Oh my God, how are we going to live through this?' Because it was a death sentence."
Of course, that Disney animated endeavor became the stuff of legend. A fairy tale adaptation of the highest order, the film managed not only to win the Golden Globe for Best Picture (Comedy or Musical), but to receive a nomination for Best Picture at the Academy Awards (a first at the time and still the only animated film to achieve as much in a five-nominee Best Picture scheme).
"It was very heady stuff," Menken says of the whirlwind of success he was entering at the time. "But there was such a heavy subplot, the illness, and all the stuff that accompanied that. I think to a degree, some of that intensity found its way into the picture and really affected people. And we accomplished some things that we'd never accomplished before. Certainly a chart hit. And it was very romantic and, again, it was just people were really into this form now. They were into the return of this form, and for that period of time, Disney really had a corner on the market."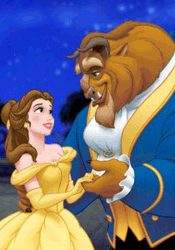 That "chart hit" was the film's title track, "Beauty and the Beast," which also won the Oscar for Best Original Song. Menken again won for Best Original Score, but it was with a heavy heart that Ashman's partner, Bill Launch, accepted the award for Best Original Song. Ashman passed away during the film's production, almost exactly one year prior to the March 1992 ceremony.
"I've had brilliant collaborators since, and even bigger successes," Menken says, searching for words. "The only way to express it is that Howard in particular was just a major, seminal talent. So is Stephen Schwartz. So is Tim Rice. So is Glenn Slater. So is David Zippel. I don't want to diminish anybody. But nobody is Howard Ashman."
Following the success of "Beauty and the Beast," it was understandably an emotionally wrenching time for Menken. Howard was "the leader," as he says. Ever since then, Menken has been much more the producer and at the creative forefront of his collaborations, but when Ashman passed, he had to learn to step up. "I lived with a lot of fear about, 'Where is my life going to go?," he says now.
An embarrassment of riches
Also in production at the time of Ashman's death was "Aladdin," the third-straight runaway success of the new Disney. There were a number of songs written by Menken and Ashman, though only three — "Arabian Nights," "Friend Like Me" and "Prince Ali" — made it to the finished product.
Lyricist Tim Rice was brought in to help finish the work, and one of his collaborations with Menken, "A Whole New World," won the Oscar for Best Original Song. Menken — yet again — took home the award for Best Original Score. If you're keeping count, that made for his fifth and sixth statuette and enough to put him in a unique league, having the most Academy Awards of any living person (a record he still holds two Oscars later).
"It was part of this unbelievable journey," Menken says. "I wouldn't say the unexpected became expected, but the unbelievable became believable as this thing just built. We just sort of stood back and said, 'Look at this.'"
In fact, following his third-straight win for scoring duties, the Academy finally decided to split the Best Original Score category in two, yielding a field for "musical or comedy" scores and a category for "dramatic" scores. That was mainly so others could have a fighting chance at an honor, though, as it didn't slow Menken down in the slightest: he was nominated for "musical or comedy" score twice, winning once, before the field was merged again and Menken fever finally broke.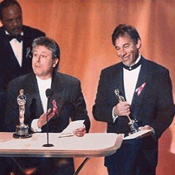 Shortly thereafter, Jeffrey Katzenberg left Disney to form DreamWorks with Steven Spielberg and Menken's former producer David Geffen. But by that time, the machine was really moving and the atmosphere at Disney was euphoric.
"All of them were really smart people," he says. "They were good to work with as human beings and as executives. They were wonderful to Howard as he was dying. It was an embarrassment of riches in terms of the talent that was at that company. But there was never any reason to move on. I think more than other companies, Disney thinks in terms of its legacy, and I was in the enviable position of being part of their legacy."
"The cynicism level goes way down…"
Sprinkled in here and there was live action work in films like "Newsies" and "Life with Mikey," but Menken's heart was with animation. After "Aladdin" came "Pocahontas," then "The Hunchback of Notre Dame," then "Hercules" and "Home on the Range." His heart, he says, stayed with animation.
"There are no more passioned believers than animators," he says. "They bring so much emotion and sincerity to the work. The cynicism level goes way down on an animated film. Although when I was working with Amy Adams, she was great. She was just delightful to work with. And of course, she was both animated and live action on that one. But yes, there is something uniquely special about animation."
He's speaking of 2007's "Enchanted," which brought Menken back to the Oscar race in a big way. Though most were expecting at least one nomination for Best Original Song (Stephen Schwartz was the lyricist), no one really anticipated three nominations.
"I thought, 'I guess I can relax. I'm not going to win anything with three nominations,'" he says with a laugh. "I felt certain about that. People respond to 'break into song' in a very strong way, and they really know when something was written specifically for a dramatic work and when something has been taken out of a trunk, and I guess it's fair to say it makes a difference."
As a result of that unexpected trio of nominations, which typically does dilute the potential for a win, Disney this year decided to only submit one track from the latest animated musical spear-headed by Menken: "I See the Light."
A new twist on an old tale
Menken had hoped to get his own animated musical off the ground at the studio, but, as he puts it, "politically at Disney the way these come about is they're really developed from the animators out. I was on the verge of doing one and then the merger with Pixar happened and that went away." It was then that he was offered "Tangled."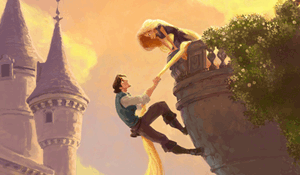 This, of course, brings us to the reason Menken has been making the rounds so much this month. Disney's 50th animated feature endeavor presents a new spin on the Rapunzel story, blending old school fairytale tropes with a progressive narrative stance without dipping into pop culture crutches to remain youthful and exuberant.
The biggest challenge, Menken says, is that, unlike a number of the projects he's worked on to date, there was no easy way into the musical language of the film. So it became a process of creativity and ingenuity lifting the story to the bar he's already set for himself.
"The character of Flynn was beyond essential," he says. "It's basically a new story of Rapunzel. It has the elements of Rapunzel within it, but beyond that, we have to create some sort of another character who is the active character who helps bring her on her journey. We have to invent an ensemble so you get some sort of an ensemble number and a premise for comedy, otherwise it just wouldn't be there.
"These are ideas, all of which, could have been embarrassing. They could have been unimaginative or clunky or obvious, and somehow we got them to work. [Directors] Byron [Howard] and Nathan [Greno], and Dan Fogelman, who was the writer, all have a great sense of the moment. They have no experience with musicals, but that was kind of an advantage, too, because they didn't know what they can't do."
What Menken and Slater came up with was an array of tracks that fits perfectly into the Disney canon, whether it's the second act ballad "I See the Light," the early statement-of-purpose ditty "When Will My Life Begin" or the Broadway turn "Mother Knows Best." And with nothing else officially in the pipeline as of yet, the composer seems content and humbly ready for whatever might come next.
"Why am I here?  But thank you.  Thank you so much."
There are a few possibilities. Menken would still love to get an animated musical off the ground, but he says he's already developing a live action musical outside of Disney.
"It's an homage to the golden age of film musicals, RKO and MGM, 'Top Hat,' 'Gay Divorcee,'" he says. "Those scores, that world, was so incredible. And the image of my parents and other people of that generation falling in love and going to school and going to war, for that matter, all the things they would do with that as the soundtrack of their lives, is incredible. That music was once new and young, and it's such vital music, the Gershwin songs and Rogers and Hart and Irving Berlin, Jerome Kern, Cole Porter, just amazing stuff."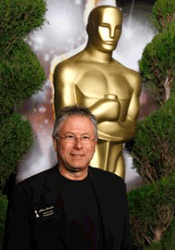 Elsewhere there is also a revamping of the stage production of "The Little Mermaid," which opened and swiftly closed after failing to meet expectations.
"I think there were mistakes made with the production," he says of the show's first run. "I don't think it captured the charm and the smarts of the movie. We're not tossing it out. I think it should be a tour and should get worked on."
There is also the recently closed West End stage adaptation of "Sister Act," which next makes its way to Germany in December (followed by Broadway in early 2011). Stage adaptations of "Leap of Faith" and "Newsies" are also on the docket.
Perhaps most intriguing to Menken (and Ashman) fans, though, might be the upcoming stage adaptation of "Aladdin," which will include every inch of music he wrote with Ashman but failed to include in the film.
"'Proud of Your Boy,' 'Babkak, Omar, Aladdin, Kassim,' 'High Adventure,' 'How Quick They Forget,' 'Humiliate the Boy,' all of these songs that were cut from the movie, we got them all in and were able to work out the story," he says. "It's so much fun. All of this stage stuff is coming in now, but I'd be lying if I didn't say there's something really beyond special to working in animation. I think it's the best environment, for me."
For now, Menken and his eight total Oscar wins (the other two, by the way, came in the form of Best Original Musical or Comedy Score and Best Original Song wins for "Pocahontas") finds himself in a race with Alfred Newman (9) and Walt Disney (22) for most Academy Awards ever won. While it might be easy for a guy with eight to say as much, he maintains that it's not about competition, certainly with titans of the trade such as those.
"If I never win another Oscar, that's the way it is," he says. "I've said a number of times, and I really do mean it, the greatest reward is when I get to be face to face with the impact these songs have had on young people. It's unbelievable. And I don't think they would feel any different if I never won another Oscar or if I won a hundred Oscars. It's about the stories and the movies.
"The Oscars are a strange thing. We're so involved in the actors and their performances. That's so compelling. I'm someone who works behind the scenes. The songs are out there but writers are behind the scenes and it's strange to be sort of dragged out into the spotlight over and over again. I go, 'Why am I here? But thank you. Thank you so much.' There is that weird feeling of, 'How did I end up so in the spotlight?' I was never the personality you would think would be in that position, and maybe that's why it happened for me, because it wasn't something I overtly hungered for."
"Tangled" is currently playing in theaters nationwide.
[Photos: Getty Images, Walt Disney Pictures, LoHud.com, MusicalSchwartz.com, Wow Hollywood]