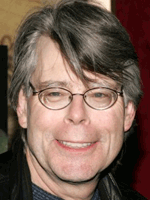 Entertainment Weekly columnist (and a dabbler in fiction) Stephen King is the first out of the gate this year with a top 10 list, beating the usual early likes of Peter Travers et al to the punch.
King's lists are always, shall we say, unique.  They generally lean toward the populist and make it rather obvious year in and year out that the author couldn't possibly have seen everything there was to see in a film year.  And as you might imagine, genre fare is usually dominant.
This year is no different.  Of COURSE this is his top 10 list.  Makes perfect sense.  And while his #1 couldn't have been more predictable (given what he likes and what he's written about the film), I wonder — was the original even on his radar?  (Answer: Nope.)  Anyway, check back Friday for Oscar Talk and an announcement regarding this year's top 10 list (mine and Anne's).  King's full list (dug up courtesy of /Film) after the jump.
1. "Let Me In"
2. "The Town"
3. "Inception"
4. "The Social Network"
5. "Takers"
6. "Kick-Ass"
7. "Splice"
8. "Monsters"
9. "Jackass 3D"
10. "Green Zone"
The list is not published online yet but can be found in the issue of Entertainment Weekly currently on shelves.
[Photo: Pop Crunch]