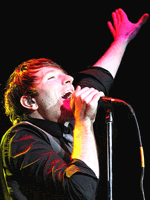 The Warner Bros. screener pack arrived yesterday afternoon and I immediately noticed an original song contender on the sleeve for Zack Snyder's "Legend of the Guardians: The Owls of Ga'Hoole." I hadn't yet seen the film so I popped it into the player last night to see where and how the track was utilized.
Owl City's "To the Sky" is a poppy ditty used mid-way through the film as part of a montage and is then reprised as the first cue on the closing credits.  Even in a slim pickings race like the one we're seeing unfold this year, I'd say it doesn't have much of a shot at a nomination, but it's an eligible contender nevertheless so it deserves a mention here.
I quite liked the film, by the way.  Snyder's vision and cinematic sense really stands out, even if his penchant for slow motion begins to grate after a while.  When he saves it for unique dramatic instances, it has a real impact.  But regardless, the animation is gorgeous and I'd have loved to catch it in the theater.
Have a listen to "To the Sky" below, and as always, keep up with the Best Original Song race as it unfolds via its dedicated page here.
[display_podcast]
[Photo: Access Atlanta]