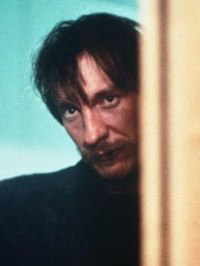 Catch up with the idea behind this series here.
1993 was the year I first became interested in making movies and tracking box office. There are two words responsible for both and they rhyme with Yourassic Lark. The director of that beast would also helm our Best Picture winner that year, finally earning the Academy's respect. I'm talking about Steven Spielberg and "Schindler's List" of course, but if you ask me, "Jurassic Park" is the better film.
Tom Hanks won Best Actor in both 1993 and 1994, becoming the first person since Spencer Tracy to take the prize two years in a row. I'd begrudge him the honor, but he's just so darn likable. Honestly though, Denzel Washington should have gotten some love for "Philadelphia" too. This win marks the only time an acceptance speech was adapted into a movie ("In & Out").
1993 is also personally notable as the first time I had seen one of the Best Picture nominees by the time of the ceremony ("The Fugitive").
1994 was easily won by "Forrest Gump," despite the presence of what IMDb users consider the greatest movie of all-time being in the mix. Really, IMDb users? "The Shawhsank Redemption?" It was also David Letterman's one and only shot at hosting, which has been much-maligned but remains one of my favorite turns at the gig. Infinitely better than Whoopi Goldberg in 1993.
Uma. Oprah.
1993 – "Naked" (Mike Leigh)
The Academy was still a few years away from embracing Mike Leigh when he dropped this bomb on us. A two hour plus journey through the darkest alleyways of London with a lead character that's either manic, socially retarded, annoying, intelligent, misunderstood or all of the above, depending on how you look at it. Needless to say, it's a role of a lifetime filled in completely by a remarkable David Thewlis.
Imagine the surprise of unsuspecting moviegoers, drawn in by the title and ridiculously misleading sexy poster, only to find Thewlis babbling and bobbling his way through one particular evening. It's the kind of film that could only work with interesting dialogue, a magnetic leading turn and an assured hand to move things along. "Naked" has all three in spades. Starting with David Thewlis, whose grizzled face and lanky frame are a perfect juxtaposition to his character's intellectual curiosity and explosive outbursts. His Johnny is constantly thinking, fidgeting, circling an idea in his brain or in his mouth and you truly never know what he'll say or do next.
The other characters mainly exist as either rubber or brick walls for Johnny to bounce his rhetoric off of, but are all the type of strong performances you expect in a Mike Leigh film. Katrin Cartlidge especially stood out to me as doing much with little, more than holding her own against Thewlis, despite a part that calls for passivity. I can't say that I didn't find Greg Crutwell's skeazeball a bit overcooked, however, and any complaints about the film overall stem from him and Leigh's depiction of that character.
Technically, the film is a small wonder, from the grimy, shadow-infested cinematography by Dick Pope to the rhythmic editing of Jon Gregory that expertly keeps pace with and maintains the flow of the dialogue. Never more so than in a virtuoso scene that I originally saw out of context in film school before watching the movie as a whole. It involves Johnny following around a late night security guard in an abandoned office building, spewing his theories about Revelations, consumerism and the future in general. The crux of the scene is played out in a wide shot of the two men completely silhouetted in an empty room. Nothing to latch onto visually, it's the words that take complete command of our attention.
George Clooney uses a similar trick in "Confessions of a Dangerous Mind" and says on the commentary that when you have words strong enough that people want to listen, you can put your camera a mile away from the actors and get away with it. "Naked" has words strong enough to listen to from a mile away and they've stuck with me long after Johnny disappeared into the sunrise and the film ended.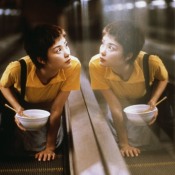 1994 – "Chungking Express" (Wong Kar Wai)
The first sentence of the essay by Amy Taubin that accompanies the Criterion DVD of Wong Kar Wai's breakout film reads, ""Chungking Express" was the "Masculin Féminin" of the 1990s." What I could try to accomplish in the next few paragraphs has already been said in that statement. Put in another way, this is the work of a filmmaker who is an out and out cinephile, but isn't afraid to play with the conventions of the medium. Isn't afraid to have fun.
By all accounts, that's exactly what Wong Kar Wai was looking to do when making the film. In the editing room of his epic, "Ashes of Time," he found that his creative juices were evaporated and he couldn't make sense of the unfolding film in front of him. To clear his mind and regain his focus, he shot "Chungking Express" in 23 days with little to no time for second guessing or anything other than pure instinct. The story of two love-lorn police officers in Hong Kong doesn't sound like it lends itself to a playful approach, and I don't mean to imply that Wong Kar Wai doesn't take these characters or their situations seriously, because he absolutely does. Rather, he chooses to manipulate the surroundings in a way that gives the whole thing a light touch.
American pop music, saturated pastel colors, blurry slow-motion all make the film feel like a fever dream and are, of course, hallmarks of the director's style. In particular, the way he uses "California Dreamin'" by The Mamas and Papas over and over again, to the point where it no longer represents a song on the soundtrack but something unfulfilled in its listener. Christopher Doyle's cinematography is typically luminous and the performances are all outstanding, but what else do you expect from Tony Leung? Has the man ever hit a false note?
The film has a distinct structure, separated into two halves that have conceptually very little to do with each other. Originally meant to have a third act, it was later turned into a feature on its own and became "Fallen Angels." The dichotomy of the stories invite us to draw our own conclusions about what Wong Kar Wai is really trying to say. Something about the alienation of modern romance in Hong Kong? Something about the isolated nature of police officers? Something about the unifying nature of pineapples in a can and fast food stands? I don't pretend to know anything other than the joy I feel in watching Wong Kar Wai become an artist who can play so eloquently with the canvas of film.
Those are my picks. What do you guys think?
[Photo: The Guardian]
[Photo: Photobucket]