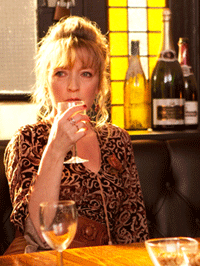 As we move into turkey (or tofurkey, if that happens to be your speed) week 2010, it seems proper, if a tad bit obvious, to take a moment and give thanks. So in lieu of a proper analysis of the season's progression this week, allow me to express my boundless, breathless appreciation for the following:
The filmmakers.
I'm thankful for Mike Leigh's consistently maturing perspective on life and how he manages to gift that to film audiences each and every time out, for Peter Weir's tenacity in the face of an unfortunate shift in cinema investment and for Darren Aronofsky's well-rewarded (in the form of a two-year studio deal) efforts pushing the envelope.
I'm thankful for Danny Boyle's energetic perspective on the cinema and his obsession with filling his frame with that passion, as well as for Christopher Nolan's determination to take studio goodwill and prove that there is an audience and payoff for pricey originality.
I'm thankful for the team at DreamWorks Animation for finding a new creative groove, and at Pixar for maintaining an impeccable record, for Scott Rudin's consistency and eye for a great story and for the lessons Ben Affleck learns, humbly, as he continues to try his hand at the helm.
I'm thankful for the Coen brothers' keeping a vital genre alive, for Sebastian Junger and Tim Hetherington finding a cinematic perspective on war unmatched, and for making it back to share it with us all, as I am for Charles Ferguson's watchdog mentality and journalistic integrity.
And I'm thankful Martin Scorsese refuses stagnation, fearless and curious as ever.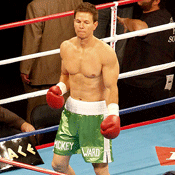 The actors.
I'm thankful for Mark Wahlberg, Nicole Kidman and Halle Berry taking chances in the producer's chair to usher their passion to the screen, for Natalie Portman and James Franco's dedication to unconventional material and for Leonardo DiCaprio George Clooney wielding their star power well.
I'm thankful for Christian Bale, Lesley Manville, Javier Bardem and Ryan Gosling setting a standard all actors should aspire to, for Ed Harris and Robert Duvall still doing their thing as well as ever, for Tahar Rahim and Jennifer Lawrence promising a bright future of the form and for a host of actresses who contributed to an embarrassment of leading performances this year.
And I'm thankful for the Sam Rockwells, Sally Hawkinses, Mark Ruffalos and Paul Giamattis for making it look easy, sometimes at the risk of not receiving their proper due.
The industry.
I'm thankful for the below the line craftsmen and women who continue to be invaluable despite working in the shadows of celebrity, for the moments I or anyone happily shared with Ronni Chasen, the hard-working publicity ranks who find passion in their work and listen to their conscience and for the independent minds who struggle to create outside the system, as well as for the promising future they enlighten with every step of the process.
I'm thankful for the outlets that struggle to maintain integrity in a sect of journalism frequently free of same and for the passion that drives any fan looking to start up a venue to convey his or her own perspective, for my comrades on the film awards beat who keep me on my toes, for the ability to work for myself covering an art form I love, and that there are some who find a modicum of worth in that coverage, as well as for the undying commitment of my colleagues here — Guy Lodge, Gerard Kennedy and Chad Hartigan — whose value is immeasurable.
And I'm thankful for the real friendships I've managed to develop out of my work, which help me to keep my eyes on the prize.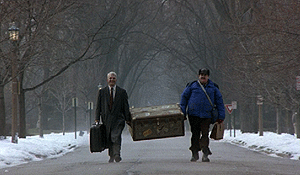 The usual.
I'm thankful for my family, which allowed me to become who I was going to become, and for my future family, represented in a fiancee who could probably do better.
I'm thankful for the friendships that make me a better person, for my health hanging in there when I certainly don't make it easy and for old creative passions rekindled as of late.
Finally, I'm thankful for everything and everyone I invariably forgot to spotlight. Sometimes one is overwhelmed by what one ought to appreciate. And so, with that in mind…
The readers.
I'm thankful to you, for keeping In Contention alive with spirited debate, discussion and passion. This place is nothing without you.
Happy Thanksgiving.
(The Contenders section was updated throughout the weekend and the predictions sidebar reflects those changes.)
[Photos: Sony Pictures Classics, Paramount Pictures]