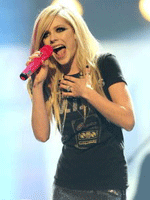 It's slim pickings in the original song category this year. I didn't even get around to featuring anything last week and diving back in today, I see there's just not much to choose from.
So I'll go with Avril Lavigne's "Alice" from Tim Burton's "Alice in Wonderland." It's on the furthest outskirts of contenders for a variety of reasons, not least of them being that it's simply a credits cue and isn't used in the film, so that won't really light the branch's fire in the screening stage of the process.
Apparently Lavigne approached Disney to contribute to the film. Personally, it drives me (and my ears) nuts. But it's one of the qualifying tracks in the hunt so it deserves its moment along with the rest.  Have a listen to "Alice" after the jump, and as always, keep up with the Best Original Song category via our dedicated page here.
[display_podcast]
[Photo: OK! Magazine]