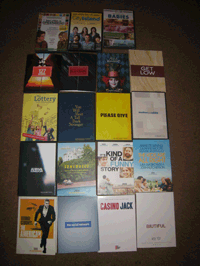 Catch up with the idea behind these weekend posts here.
The photo to the right represents the early haul on screeners this year.  Usually this time of year I find myself delighting in second and sometimes third viewings of this or that, but oddly enough, I still have some catch-up to do.
I'm glad the documentary field has been narrowed down, so I can focus on a smaller group, but there are even a number of films from earlier in the year that I haven't bothered to put in the player yet.  What is it?  Laziness?  Lack of interest?  Too busy?  I don't know.  My mind is gone.
It's a weirdly sluggish year on the whole as advertising has held off until late November/early December for the most part.  This time last year we still had three films to see.  With "TRON Legacy" going before junket press in the last few days, we're left with just one film to bow: "True Grit." So Jeff Bridges gets to crash the Oscar party two years in a row.
I want to go out and catch "Harry Potter and the Deathly Hallows: Part 1," but I really just think it would be like painting a Picasso on a Pollack given how much of my recollection of that series has turned to mush.  But who has the time to watch the whole franchise over again?  It would be a shame to exit the year having missed this first installment of the final chapter, but I'd rather give it a chance to stand out in my mind.
Let's see.  I've been digging into the "Avatar" extended edition Blu-ray, which is GLORIOUS.  More on that in a separate post still to come.  I've got a stack of Netflixed Kurosawa joints just sitting on my TV stand, waiting for me to come up for air.  And hey, it'd be nice to, you know, read a book or something.  Ha, RIGHT.
Well, it's raining hard today in Los Angeles.  Maybe I can buckle down and marathon through some of this "to-do" list.  But anyway, that's really all I have for you.  So, as usual, you know the routine.  Open thread.  Have at it.