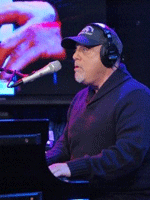 By the way, I wanted to mention, in case there are any music lovers who missed them, this week was a strong week in music interviews solely on the basis of Jimmy Fallon's one-hour sit-down with Bruce Springsteen and Howard Stern's even longer chat with Billy Joel (the shock-jock's long-time friend but first-time guest).  Both interviews, oddly enough, happened on Tuesday.
Joel's appearance was perhaps the best interview Stern has ever given, while Springsteen's made for a unique lengthy session (and The Boss's only TV appearance to promote the epic re-release of "Darkness on the Edge of Town," which is accompanied by Thom Zimny's fantastic documentary "The Promise: The Making of Darkness on the Edge of Town.")  Stern also had Jay-Z on the show this week, which was another great one-on-one.
Seek these out if you get a chance.  Great material.  I'm going ahead and posting an embed of Springsteen's spot after the jump.
[Photo: HowardStern.com]