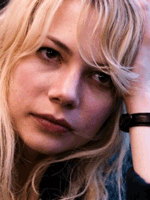 I chatted with "Blue Valentine" star Michelle Williams a few weeks ago and it's one of a handful of discussions I haven't yet had a chance to transcribe. But in her case, I think it's more beneficial to let her answers speak for themselves rather than have them filtered through the perspective and narrative drive of a journalist.
Williams is a delightful interview subject because she seems to painstakingly search for the honest and fresh answer. She doesn't naturally lean back on sound bytes and the usual banter even if it does prove impossible not to tread similar water from one interview to the next.
In the film, she gives a dynamic performance that could well push her into the final five of a lead actress category uncharacteristically competitive this season. Her chemistry with co-star Ryan Gosling, largely a topic of our discussion, is impeccable. Have a listen to our brief chat after the jump.
[display_podcast]
[Photo: The Weinstein Company]