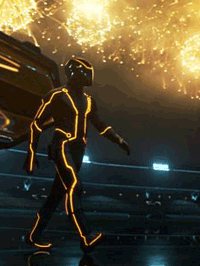 Last week we discussed how a movie's soundtrack can be immeasurably improved by music.  This week, we turn to the sound technicians.  While next week will concentrate on sound mixing (the overall mix of effects, recorded sounds, dialogue and music), this week we look at sound editing, the creation of artificial sound effects to enhance a film's aural impact.
Despite the difference between the two sound categories, the fact remains that usually no more than one or two of the nominees in the Best Sound Editing field are generally snubbed for mixing.  And as always, Best Picture contenders do well, suggesting that the branch isn't the most novel when seeking out nominees.
However, the category has shown a tendency to reward films that do not necessarily score in the major categories; blockbusters, fantasy films and animated films usually do very well here, likely because of the fact that so many sounds in these movies have to be manifested.  So let's start with animated titles.
"Toy Story 3" is clearly leading the way in the Best Animated Feature Film category, and is also a likely Best Picture nominee.  While it did not feature sound effects to the same extent as some of the past Pixar nominees, Tom Myers and Michael Silvers have accumulated seven nominations and a win from Pixar efforts in the past seven years.  They clearly have a great chance at number eight.
That having been said, the sound effects on "How to Train Your Dragon" were in many ways more impressive.  Crafted by the great Randy Thom (who won this category for "The Incredibles"), we could see two animated films nominated here this year.  Or zero.
Probably the most likely nominee is Richard King, a two-time winner last taking the gold for "The Dark Knight" two years ago.  Again working with Christopher Nolan this year on "Inception," King will certainly be in the running this year for this Best Picture-contending blockbuster.  To me the only question is whether he can become a double nominee this year, also working on Peter Weir's "The Way Back." He won his first statuette for Weir's "Master and Commander: The Far Side of the World." His latest title is getting a late qualifying Oscar run and its soundscape will play a large role in realizing the atmosphere.
Last time, I suggested Kami Asgar and Sean McCormick, previously nominated for another unlikely effort, "Apocalypto," could yet repeat the accomplishment for "Secretariat." But the film failed to catch on like I thought it might, and the sound editors are hardly powerhouses in the field.   I also mentioned "Salt" as a possibility, largely because I think it has an excellent chance in Best Sound Mixing.  But I feel more and more that they will be forgotten altogether.
Looking back on titles that have already been released, I feel that "Robin Hood" could survive here.  With Wylie Stateman, who has managed nominations in many seemingly unlikely circumstances, if the film score anywhere, I would say this is at the top of the list.  Then again, the film could be totally forgotten.
Even more likely would seem to be "Iron Man 2." While the film is not as beloved as its predecessor, Frank E. Eulner and Christopher Boyes did work every bit as impressive as that which earned them a nomination two years ago.  I could very well see them back in the running.  Then again, it might not seem as novel.
This week, we see "Harry Potter and the Deathly Hallows: Part 1" open and the box office will undoubtedly be massive.  I've said many times that I feel next year is the real chance for this series to shine.  But I'm always reluctant to rule it out, and here is a category where the potential exists.
Looking to films that have yet to be released, it seems obvious "TRON Legacy" will be tremendously reliant on sound effects.  While the film could yet bomb, if there is any category that would seem to be well suited to it (with the possible exception of Best Visual Effects), this would be it.  Gwendolyn Yates Whittle was nominated last year for "Avatar" so she could be on a role of sorts.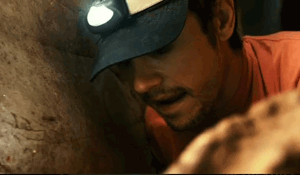 Another so far unseen title is the Coen brothers' "True Grit." The gunfire and western sounds will be essential to building the mood of this film.  "No Country for Old Men" was spotlighted here three years ago.
I'll end by citing a film I forgot to mention last time but am now quite confident will be nominated.  The sounds of Danny Boyle's "127 Hours" have gotten laypeople to notice how cleverly placed sound effects can seriously improve a film's mood and storytelling.  Glenn Freemantle was nominated here two years ago for "Slumdog Millionaire" and was the film's sole nominee to lose to another film (ironically, Richard King on Christopher Nolan's "The Dark Knight").  I fully expect him to be back in the running this year and we just might see another King-Freemantle race.
So there you have it.  Another category down and just three to go.  Offer your take on the Best Sound Editing race in the comments section below.
[Photos: Walt Disney Pictures, Warner Bros. Pictures, Fox Searchlight Pictures]