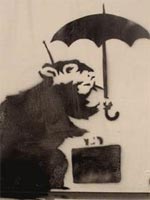 Cue the annual outcry over what titles didn't make it — judging from the Twitter reaction, this year's most-mourned snubee is the Chinese critical darling "Last Train Home." (I'd join the pitchfork-wielders, but I haven't had an opportunity to see the film yet.) More surprising, however, is the omission of such widely fancied contenders as "The Oath" and "A Film Unfinished" — yes, folks, hell is experiencing a cold snap and the Academy snubbed a Holocaust documentary.
Beyond that, hoewever, most of the perceived frontrunners are present, including "Inside Job," "Waiting for Superman," "Restrepo," "Client 9: The Rise and Fall of Eliot Spitzer" and "Waste Land." Joining them on the list, I'm happy to say, is "Exit Through the Gift Shop," which I suspected would fall foul of the Academy's usual resistance to crowdpleasing pop-culture docs. (The likes of "Catfish" and "Joan Rivers: A Piece of Work" took that bullet instead, unfortunately.)
At this stage, I'm afraid I've seen only a third of the shortlist — from which Banksy's shape-shifting, satirical art study is comfortably my favourite. (Come on, Academy: aren't you a little curious to see who will show up if you nominate him?) "Inside Job," however, plainly remains the film to beat. Full list after the cut.
"Client 9: The Rise and Fall of Eliot Spitzer," Alex Gibney
"Enemies of the People," Rob Lemkin and Thet Sambath
"Exit through the Gift Shop," Banksy (review)
"Gasland," Josh Fox
"Genius Within: The Inner Life of Glenn Gould," Michele Hozer and Peter Raymont
"Inside Job," Charles Ferguson (review) (interview)
"The Lottery," Madeleine Sackler
"Precious Life," Shlomi Eldar
"Quest for Honor," Mary Ann Smothers Bruni
"Restrepo," Tim Hetherington and Sebastian Junger (review) (interview)
"This Way of Life," Thomas Burstyn
"The Tillman Story," Amir Bar-Lev
"Waiting for 'Superman'", Davis Guggenheim
"Waste Land," Lucy Walker (review)
"William Kunstler: Disturbing the Universe," Emily Kunstler and Sarah Kunstler
[Photo: Producers Distribution Agency]