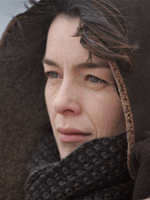 Holiday parties sure are getting earlier, as the team at Summit Entertainment held theirs last night at BOA Steakhouse on Sunset.  The event was held to toast the efforts of cast and crew on the studio's 2010 films — "Fair Game," "The Ghost Writer," "Red" and "The Twilight Saga: Eclipse."
I ended up chatting with Olivia Williams early in the evening about her experience on Roman Polanski's film, which she clearly coveted.  She noted with candor how positive reinforcement isn't exactly part of the process, not in any bad way, but just that hearing a "hey, nice job" isn't the norm on a Polanski set, something she wasn't expecting.  But she relished the experience and her handlers certainly think seeing her vibrant sense of humor on the circuit could make people realize how wonderful she is as a cold character in the film.
Meanwhile, Jerry Zucker was there with his family as producer of "Fair Game." While there was plenty to talk about regarding that political thriller, how do you engage in conversation with the guy who made "Airplane!" and "The Naked Gun" without going there?  We talked potential torch-bearers of the form today, and he made it a point of mentioning how right "The Hangover" got it, that it was a comedy constantly surprising you, and that is key.  He's currently working on a send-up of Broadway musicals tentatively titled "You Are Here," which should be a hoot.
Speaking of "Fair Game," character actor David Andrews — who plays the steel-eyed Scooter Libby in the film — was on hand and eager to talk to whomever.  A former real estate lawyer who tried his hand at acting when, eight months into practice, he decided he hated the profession, Andrews is an affable guy who of course sang the praises of director Doug Liman.
I actually spent most of the night engaged in conversation with Bryce Dallas Howard and her husband, actor Seth Gabel.  A friend, my "plus one" at these events as of late, started in with flashing baby pictures and it was all baby talk after that.  Bryce and Seth have a 3-year-old.  I did manage to get in effusive praise for her work in "Hereafter" and some talk about working with Clint Eastwood (the one or two takes thing freaked her out early on but the atmosphere was such that it felt right after a while) before the toddler stories took hold.  Great couple.
Also on hand were Pierce Brosnan and Mary-Louise Parker, among others.
There was an obvious damper on the evening given the unfortunate and bizarre death of publicist Ronni Chasen the night before.  A moment was taken to raise a glass in her honor, the restaurant just maybe a mile or so from where she was gunned down Monday night.  Meanwhile, just about every publicist in town was at the Four Seasons to remember her.  And today's Variety?  It just happens to be the music issue, which is full of stories placed and worked on by Chasen and her team, which specialized in film music composers.  We miss you already, Ronni.
[Photo: Summit Entertainment]