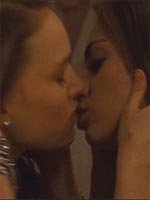 When it comes to Oscar campaigning, sex can be something of a double-edged sword. We all know that the Academy has often responded well to attractive young actresses baring flesh for their art: Kate Winslet was the most recent beneficiary, but Halle Berry, Charlize Theron, Holly Hunter and Jane Fonda are among the other actresses who spun open onscreen sexuality into Oscar gold.
That said, while raw sex scenes don't necessarily offend the Academy's delicate sensibilities, voters can nonetheless shy away from performances that delight in their own kinkiness: recent snubs for the likes of Naomi Watts in "Mulholland Drive" and Maggie Gyllenhaal in "Secretary" suggest that Oscar favors solemnly tasteful kitchen-sink eroticism over more heightened depictions of sexual pleasure. (After all, it wasn't Diane Lane's hot love scenes that earned her that unlikely Best Actress nod for "Unfaithful"; it was that guilt-ridden reaction shot on the train ride home.)
So Natalie Portman, whose Oscar-tipped performance in "Black Swan" features steamy scenes of lesbian lovemaking and individual masturbation that might repel fustier voters, is smart to emphasise the weighty artistic demands of these scenes in a recent V Magazine interview. The narrative created is one of a demure actress studiedly shedding her inhibitions for the sake of her craft, and should therefore earn her the same "bravery" points that counted in Berry's favor back in 2001.
Perhaps alluding to her Oscar-nominated turn as a stripper in "Closer," Portman explains her physical commitment to "Black Swan" as follows:
I was figuring out my own sexual identity, likes and dislikes and all that stuff, and it's weird to be doing stuff on film as you're figuring it out… It's annoying, because online bullshit interferes with what I want to do artistically. I'm not opposed to sexuality or nudity in a film, but I'm very opposed to pornography sites and you're pretty much giving them material if you do any of that. It's always a big dilemma for me.
Meanwhile, of her key sex scene with Mila Kunis, she says, "It's not raunchy — it's extreme." Except, well, it is raunchy, and proudly so. For campaign purposes, however, the more Portman plays this factor down — and the more of a challenge we're led to believe it was for her — the better her chances. Nicely done.
[Photo: Fox Searchlight Pictures]