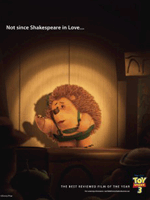 Pete Hammond got the expected quotes from Disney chairman Rich Ross (in the midst of revealing a very intriguing campaign strategy), but it's all pretty much the rhetoric we would expect, and stems from the same philosophy on "Toy Story 3" potentially winning the Oscar for Best Picture that you've seen here and elsewhere.
The key quote:
The theory is pretty simple for us…It's thrilling that there is a separate category for animation and that allows animated movies to be recognized but for some reason an animated film has never gotten Best Picture and I always wondered was there not an appetite? We decided this year we have the biggest and best reviewed film of the year. If not this year, and not this movie, when?
The bold is mine.  And that, in a nutshell, says it.  "What better way to celebrate [Pixar's] track record than to give cinema's highest honor to what looks to be the closing installment of the series that started it all," I asked back in June.  It still feels like a valid argument.  More on that intriguing campaign strategy after the jump.
Writes Hammond:
Disney/Pixar will launch an ambitious advertising campaign aimed squarely at Academy members this week that will blatantly try to associate past Best Picture winners with TS3 by having Toy Story characters enact some iconic images from Oscar winning films like West Side Story, On The Waterfront, Shakespeare In Love, Silence Of The Lambs, Titanic, The Lord Of The Rings: The Return Of The King and Forrest Gump (which will feature the Woody character voiced of course by 'Gump' star Tom Hanks – get it?). There are potentially more than 20 different ads they will create but some like Lambs which features a disembodied Mr. Potato Head still are being cleared by various parties. The campaign which uses the phrase 'Not Since' will launch with The Godfather Part II in which Lotso, the mob boss-like bear emulates Al Pacino. Since that film (and Rings) were rare instances of sequels triumphing with Best Pic wins, the studio is not-so-subtly implying that the time has come for another sequel to win.
Very clever.
[Photo: Walt Disney Pictures]