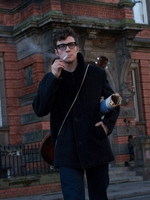 In the latest Gurus o' Gold survey, David Poland asked us all to contribute the usual rankings for Best Picture, added in the supporting actor and supporting actress categories, then popped the question regarding the Golden Globes comedy/musical category.  It's interesting to get perspective on the latter this (relatively) early in the season.
A couple of things: First of all, three Gurus included "Toy Story 3" in their ranking, which with Gregory Ellwood's #1 placement was enough for it to be chalked up at #5 on the collective.  Ever since the HFPA instituted an animated feature category, animated features have been ineligible in the Best Picture categories.  So that's gone.
The #6 spot went to "Get Low," but I've confirmed that film as a drama consideration for HFPA, so it won't be in the mix.  Meanwhile, only Steve Pond and myself included "Nowhere Boy," which is a film that went over really well with the association and will be competing as a musical.
Most seemed to toss a lazy vote toward "Love & Other Drugs," but I was skeptical, going with "Easy A" (and happy to see I wasn't alone), while "How Do You Know" and "The Kids Are All Right" (yes, it will compete as a comedy) filled out the top of the survey for most.
I was frankly surprised to see "Made in Dagenham" fall down to the #7 spot.  I would imagine it will have an easy trip to the field, certainly a better shot than "Love & Other Drugs," but maybe I'm wrong.  I've heard the HFPA wasn't keen on "Burlesque," so it's probably not a player, while fellow musical (and one-vote wonder) "Country Strong" is yet to be seen.
Another film only mentioned once (by USA Today's Anthony Breznican) that could make a dent in this field — especially considering the star power and the HFPA's star obsession — is "The Tourist." If it's ultimately not good enough to get a Best Picture nod with the group, expect Johnny Depp, Angelina Jolie or both to at least be nominated in the acting fields.
The rest…meh, probably not in the mix.  But "Alice in Wonderland" is an intriguing consideration.  Check out the full survey at Movie City News.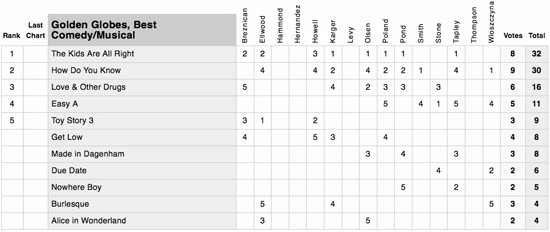 [Photo: The Weinstein Company]