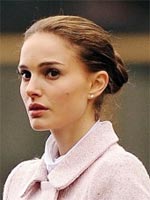 The Palm Springs International Film Festival may claim independent thought in the rationing of their performance awards, but rather like Santa Barbara, any West Coast fest that takes place in prime awards-season territory can't claim to be free of the Oscar campaign circuit.
After all, when their press release states that the two actors being honored with their Desert Palm Achievement Awards (essentially Best Actor and Actress) "deliver Oscar-quality performances," they're effectively admitting to being another cog in the machine.
So it is that for the last three years running, their male Desert Palm Achievement Award winner was gone on to scoop the Best Actor Oscar. These folks know what they're doing. Try and conceal your astonishment, then, that this year's honoree is Colin Firth, the unanimously agreed-upon frontrunner (and to my mind, lone contender) for the Oscar. "Colin Firth brings a regal versatility to each of his roles, but his portrayal of King George VI in his latest film, 'The King's Speech,' is extraordinary," says PSIFF director Harold Matzner.
On the female side, where the Santa Barbara fest threw its weight behind Annette Bening, Palm Springs has elected to honor the woman seen by most pundits as Bening's chief rival for the Oscar. "Natalie Portman, who started dancing at age four and acting at age 11, tests the full range of her significant talent with a powerhouse performance as the obsessed ballerina in Darren Aronofsky's 'Black Swan,'" runs the festival's statement.
The festival hasn't proved quite as prescient with their female Desert Palm winners as with the men: last year, they picked Marion Cotillard for "Nine," and two years before that, Halle Berry in "Things We Lost in the Fire." Still, while not particularly significant in themselves, the awards can point to areas where industry consensus is forming.
Other actors due to be honored at the fest are Javier Bardem (International Star Award) and Jennifer Lawrence (Rising Star Award, predictably enough). Perplexingly, however, Carey Mulligan will receive the Breakthrough Star Award — a year late, I'd say, but it's the thought that counts.
[Photo: Fox Searchlight Pictures]