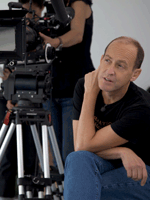 I'm getting to that point where the interviews are stacking up and there's precious little time to transcribe and write them up.  It pains me to resort to audio for these purposes as I enjoy writing them out and giving a narrative interpretation of a persona, but sometimes one's hand is forced.
This morning I had the pleasure of chatting with "Inside Job" director Charles Ferguson, who has already stirred a fuss in political and economic sectors with his latest documentary.  The film opens wider this weekend and, hopefully, will reach the audience that really needs to see it: the American public.  Check out the trailer for the film here.
Forgive dodging the writing duties this time out, but hey, I'm not just lazily throwing the audio up here.  A little editing in and out of the piece was fun and I think the conversation sheds some light on Ferguson and his approach to this film in particular.  It's a short chat.  Have a listen after the jump.
[display_podcast]
[Photo: Sony Pictures Classics]