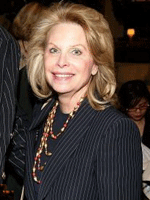 I was driving, in between interviews this morning, when I got the tragic news of Ronni Chasen's random, senseless death. Deadline followed up on an initial Radar Online report and the news spread from there.
Ronni was a long-time publicist who worked with just about everyone in town at one point or another. She was a driven, persistent professional, amazing at her job but also a truly sweet person. I considered her a friend, and to know she experienced such a horrific death is nearly too much to bear.
The sad reality is this business, the business she had such a hand in shaping, will take a moment to grieve and then it'll be taking calls and business as usual. But part of me thinks Ronni, who never slowed down, wouldn't have it any other way.
Nevertheless, this is a truly sad day. As readers, you may not have known Ronni, but you certainly felt her effort in our coverage and others' whether you knew it or not.
My heart goes out to her family and the team at Chasen & Co.  Pete Hammond remembers her here.  Anne Thompson here.  David Poland here.  Jeff Wells here.  Patrick Goldstein writes Ronni up quite perfectly here.  And Sharon Waxman collects reactions and remembrances here.
[Photo: Deadline]