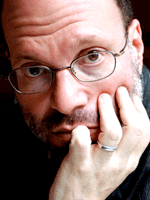 It looks to be a pretty good year for producer Scott Rudin.  "The Social Network" has already opened and done quite well for a fall drama (not to mention the awards buzz that keeps piling on).  "The Way Back," which he executively produced, is another great collaboration with Peter Weir, and the Coens' "True Grit" is still to come.
At the end of the day, it could be an even better showing that he had in 2007, when Paul Thomas Anderson's "There Will Be Blood" and the Coen brothers' "No Country for Old Men" were duking it out for the Best Picture win.  The latter, of course, took the gold.
If you've been picking up The Hollywood Reporter's big glossy issues, you probably saw in the latest a big spread with Stephen Galloway interviewing the producer.  Today comes word that the PGA will honor Rudin at this year's festivities.  Check out the full press release after the jump.

LOS ANGELES, CA (November 15, 2010) – The Producers Guild of America (PGA) announced today that producer Scott Rudin will receive the 2011 David O. Selznick Achievement Award in Motion Pictures. The award will be presented to Rudin at the 22nd Annual Producers Guild Awards ceremony on Saturday, January 22nd at the Hyatt Regency Century Plaza in Los Angeles.
The Producers Guild of America's Selznick Achievement Award recognizes a producer's outstanding body of work in motion pictures. The honor has a rich and distinguished history with past recipients including such legendary producers as Stanley Kramer, Saul Zaentz, Clint Eastwood, Billy Wilder, Robert Evans, Brian Grazer, Jerry Bruckheimer, Roger Corman, Laura Ziskin, Kathleen Kennedy & Frank Marshall, and last year's 2010 recipient was Pixar's John Lasseter.
"Scott Rudin's body of work speaks for itself. He has impressively set a high bar for filmmaking and the Guild is proud to honor him with the Selznick Award this year," said PGA Co-Presidents Hawk Koch and Mark Gordon.
"This is an extraordinary honor, and I'm thrilled to join the company of the distinguished filmmakers who have previously received this award," said Rudin. "I'm very grateful to the Producers Guild and pleased to accept this on behalf of the tremendous array of artists who have made such enormous contributions to the films we've made together."
Scott Rudin has produced many critically acclaimed and commercially successful films including THE SOCIAL NETWORK, TRUE GRIT, MONEYBALL, GREENBERG, IT'S COMPLICATED, FANTASTIC MR. FOX, JULIE & JULIA, DOUBT, NO COUNTRY FOR OLD MEN, THERE WILL BE BLOOD, REPRISE, THE QUEEN, MARGOT AT THE WEDDING, NOTES ON A SCANDAL, VENUS, CLOSER, TEAM AMERICA: WORLD POLICE, I HEART HUCKABEES, SCHOOL OF ROCK, THE HOURS, IRIS, THE ROYAL TENENBAUMS, ZOOLANDER, SLEEPY HOLLOW, WONDER BOYS, BRINGING OUT THE DEAD, SOUTH PARK: BIGGER, LONGER & UNCUT, THE TRUMAN SHOW, IN & OUT, RANSOM, THE FIRST WIVES CLUB, CLUELESS, NOBODY'S FOOL, THE FIRM, SEARCHING FOR BOBBY FISCHER, SISTER ACT and THE ADDAMS FAMILY as well as the upcoming THE GIRL WITH THE DRAGON TATTOO. Rudin has also produced many successful and renowned theater projects including "Passion," "Hamlet," "Seven Guitars," "A Funny Thing Happened On The Way to The Forum," "Skylight," "The Chairs," "The Blue Room," "Closer," "Amy's View," "Copenhagen," "The Designated Mourner," "The Goat," "Caroline, or Change," "The Normal Heart," "Who's Afraid of Virginia Woolf?," "Doubt," "Faith Healer," "The History Boys," "Shining City," "Stuff Happens," "The Vertical Hour," "The Year of Magical Thinking," "Gypsy," "God of Carnage" and "Fences."
[Photo: 42 West]